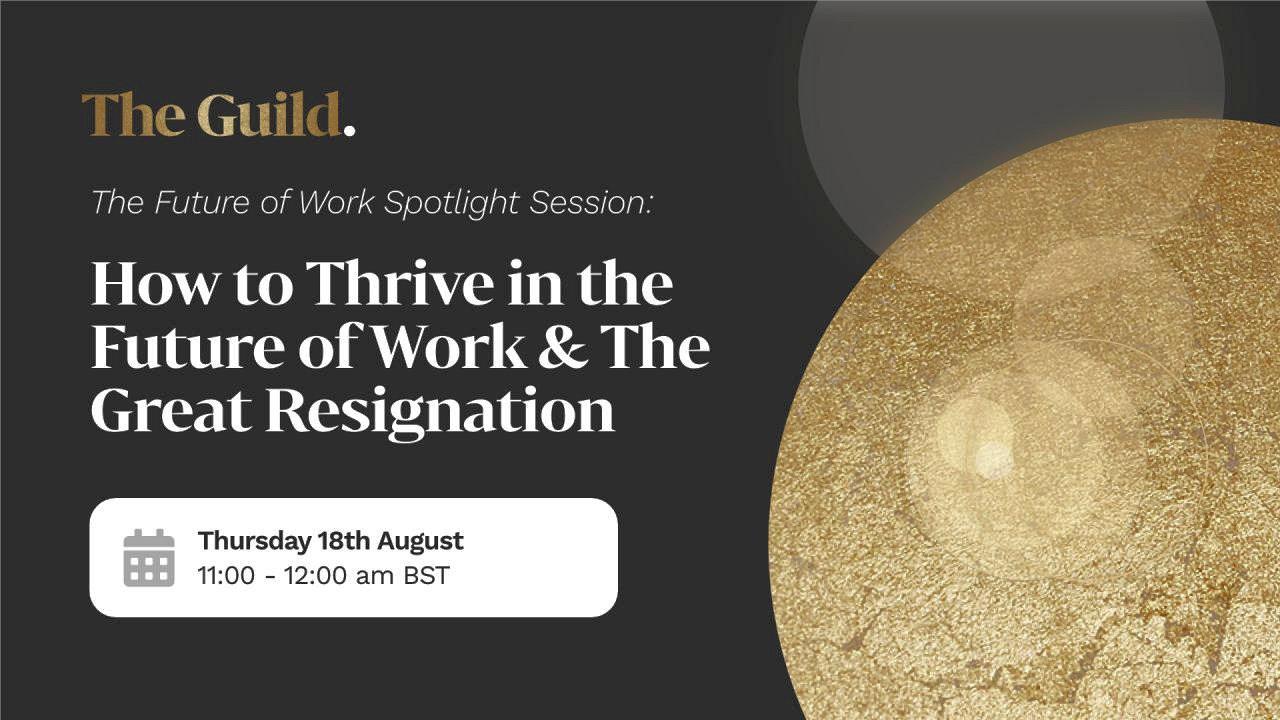 How to thrive in the future of work and the great resignation
Hosted by the Global Leadership Guild, this panel discussion will focus on the hot topic for 2022 of How to Thrive in the Future of Work & The Great Resignation, and the implications for today's leaders across the world in recruiting and retaining talent as we move into the future.
Ask questions to experts (when you join via the interactive link)
With an exciting special guest speaker panel including Leona Watson international speaker, Team Energiser, Business & Executive Coach & facilitator; Benjamin Bader Associate Professor in International Human Resource Management at the Newcastle University Business School; and Mark Pavlika full stack life, career,  executive coach, OD & HR Consultant, & CIPD London Regional Facilitator – this FREE online event will be a highly relevant conversation, not to be missed.
When you check the optional registration form consent box, you will receive free membership and access details to join the exclusive interactive part of the event.
Leona Wilson
Leona's thought-provoking insights around leadership, team engagement, culture and resilience are a direct result of her unique work and personal experiences, including kayaking with killer whales!
An award-winning entrepreneur, Leona founded Cheeky Food Events, delivering over 2,500 customised team & leadership events, before she sold after 17 years. Leona observed the best and worst of leadership and culture, witnessing 85,000 colleagues, striving to have fun and connect on a team and company level.
The lessons and 'truth bombs' she shares as a speaker and coach, including her own epic failures and wins are always relatable and challenging.
She also competes in triathlons (very slowly!), has cycled in Provence in search of the perfect Rose and jumped into the icy water of Antarctica… you'll be surprised how relevant these adventures are to the business world!
Benjamin Bader
Benjamin is teaching and consulting internationally, based on his extensive expertise on global mobility, international leadership, and human resource management. He is acting as keynote speaker, trainer, and consultant, running workshops across the world on topics such as the future of cross-border mobility, successfully managing international assignments, managing the digital transformation, and (cross-border) leadership in the digital age. Moreover, he has developed an App-based training program on health-focused leadership in collaboration with LEADA and consults organizations on this very topic.
His research interests are primarily in the area of expatriate management, international leadership, and the Future of Work. Benjamin has published in top-tier management journals, including Human Resource Management and Journal of Organizational Behaviour, and he is an Associate Editor of the International Journal of Human Resource Management. His work is regularly presented at leading international conferences and he has been invited as keynote speaker at numerous corporate events, and as a visiting professor at universities around the world, including Simon Fraser University (Canada), Copenhagen Business School (Denmark), and Handelshochschule Leipzig (HHL, Germany).
Benjamin is a Strategic Advisor to and board member of the RES Forum, an independent community for international HR & mobility professionals that is now the largest and most active network. He regularly publishes executive summaries and reports of his research targeting practitioners. His work has been featured in outlets such as People Management, HR Magazine, and the Financial Times.
Mark (Pav) Pavlika
Pav helps companies create high performing cultures. The name "Mindful HR Director" encapsulates him as a person, what he does, and the way he likes to do it – Mindfully with compassion.
After reflecting on his life experiences and passions, he realised that his purpose was, is, and always will be to help others. Pav is proud to have helped clients:
Achieve Top 10 status in the Market Research Society's Best Companies to Work for.
Achieve Top 50 status in the Sunday Times 100 Best Companies to Work for.
Achieve Top 100 status in Campaign Magazine's 100 Best Companies to Work for.
He has also:
Participated on the judging panel for 3 years on the CIPD's Performance Management Awards.
Saved clients hundreds of thousands of pounds by reducing staff turnover.
Coached and mentored many high achieving managers and executives. See less