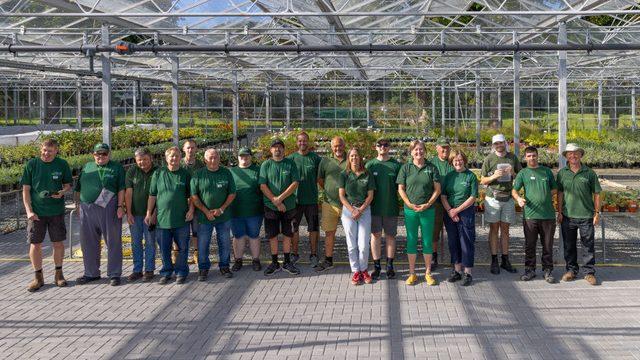 Grow Open Day
Grow throws open its doors to the public two years to the day since vacating the site and handing it over to contractors.
An invitation is extended to the local community to tour the redeveloped site at an Open Day on Sunday 1st October.
His Excellency, the Lieutenant Governor Richard Cripwell and Mrs Cripwell with Growpatrons Guy and Julia Hands will attend the official opening of the site at 1pm.
Mark Dunster, Grow Chair said: "It is testament to the professional workmanship of BW Builders and their sub-contractors that the project has been completed in just under two years. We are delighted that His Excellency and Mrs Cripwell and our patrons can be with us to celebrate this momentous occasion in Grow's history. And of course the redevelopment could not have happened without the financial support and encouragement of our patrons, other generous benefactors and the local community.
"Guernsey came together to ensure the future of training opportunities for people with learning disabilities is secure for many decades to come ."
Open day visitors can tour the whole site, exploring the two storey Facilities Centre which includes on the ground floor the retail training centre, workshop and arts space The Grow Hub offices, life skills and training rooms are located on the first floor. The greenhouse which has been labelled Guernsey's biggest recycling project and training cafe can also be viewed.
"We shall be open between 12 – 4pm and hope that people will pop in throughout that time to have a look around the facilities. Grow staff and directors will be on hand to talk about the different areas and answer any questions," said General Manager, Karen Blanchford.
"Our attendees, known as the Crew are settling in well and enjoy being 'back home' at the Coutanchez. We shall gradually introduce the full range of training options as we settle in and Crew gain confidence in this new environment."
Active travel is encouraged where possible, with on-site cycle parks and a bus layby for routes 31 and 32 at the entrance.
On the day there will be accessible parking only at Grow. Vehicle parking options include:
Park and Walk – Parking at DHS in La Route des Long Camps, just five minutes walk away
Park and ride a regular shuttle operating from the Guernsey Institute, formerly the College of Further Education. Age Concern and Unlimited formerly the Ron Short Centre are very kindly providing minibuses which will operate throughout the day.
The Grow Open Day takes place on Sunday 1st October between 12 – 4pm and the Centre will be open for plant sales from the following day.