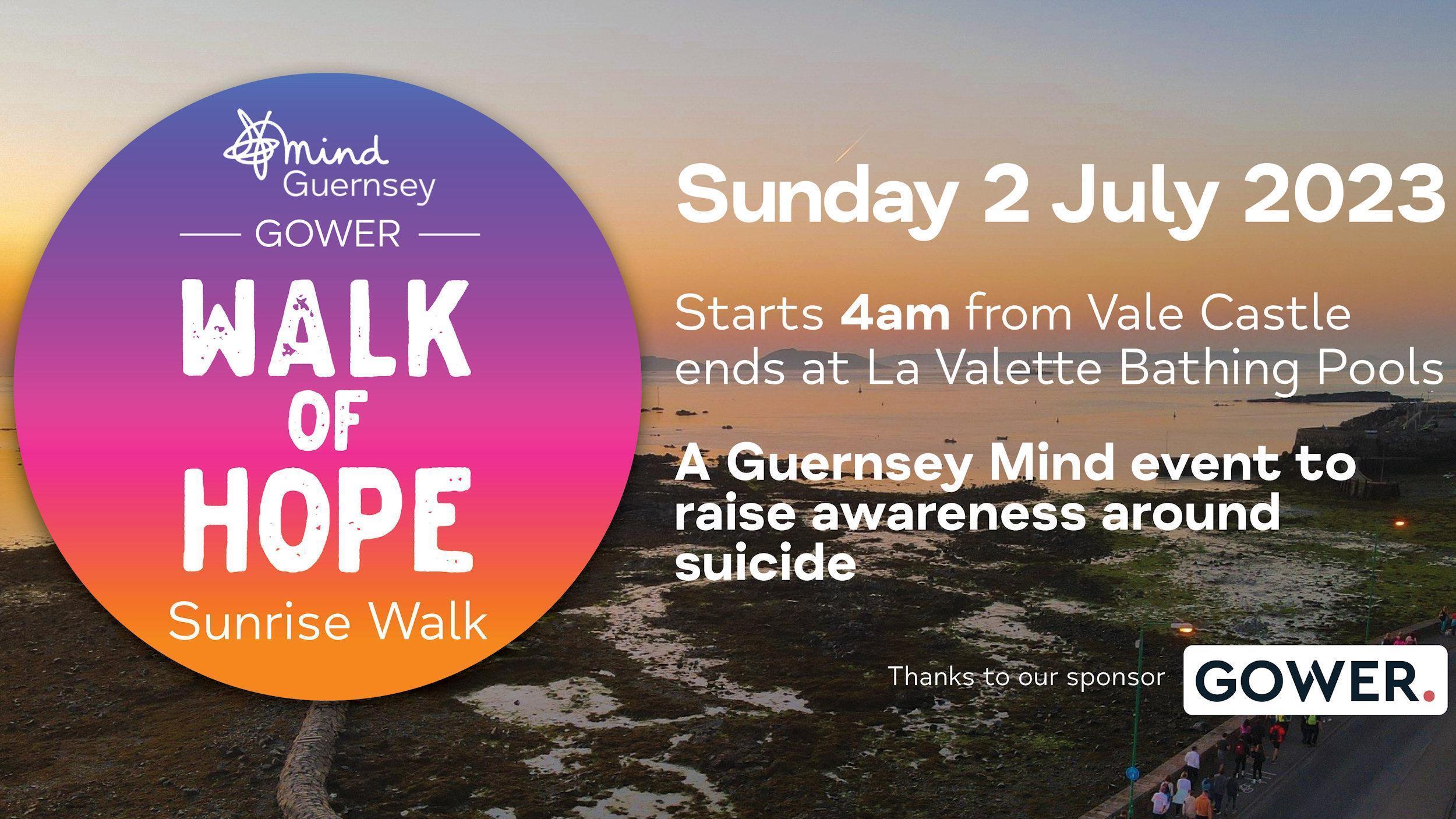 Gower Walk of Hope
The Gower Walk of Hope aims to raise awareness around suicide and support Guernsey Mind's ongoing work regarding suicide preventative training.
The Walk is just over 5k and will begin at 4am from Vale Castle. Walkers will walk at their own pace along the east coast to the Bathing Pools. We will start the walk just before sunrise, so in darkness and walk into the rising sun. This is a path that Guernsey Mind want to help people in suicide crisis take. Going from a dark place into hope and light through support and assistance of a network of people.
As per previous years we would like this event to be as environmentally friendly as possible, if you would therefore like to wear your own brightly coloured T-shirt rather than purchasing a new please do. We also ask walkers to bring their own refillable filled water bottles.
Walker registration will begin from 3:15am with a look to the walk starting at 4am. On registration you will register and get receive a hand stamp rather than race numbers. Should you wish to walk for someone please feel free to pin to the back of your shirts 'I am walking for ..' (this is optional). Guernsey Mind and Gower will have marshals along the route.
TICKET INFO: The ticket fee will cover your entry to the walk, a hot or cold drink and a pastry at the Bathing Pools.
SPONSORS: We are incredibly thankful to Gower for their sponsorship of this years walk.
DISCLAIMER: All entrants take part at their own risk, Guernsey Mind and all third parties accept no responsibility for personal accidents.
FILMING: Please note that we will be filming parts of the walk via a drone for use on social media. Some on ground photos will also be taken, if you would rather not be caught on camera just let us know by emailing maddy.diligent@guernseymind.org.gg
Anyone under the age of 15 must be accompanied by an adult