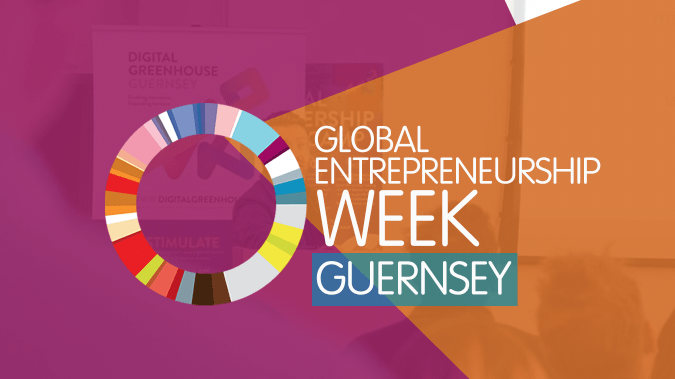 Global Entrepreneurship Week Guernsey
Global Entrepreneurship Week returns to the Digital Greenhouse to bring a week of illuminating events to Guernsey business owners.
From Saturday 12th to Friday 18th November, the Digital Greenhouse will be hosting Global Entrepreneurship Week Guernsey in parallel to the international Global Entrepreneurship network, who are celebrating their 15 year anniversary of the event this year. The Digital Greenhouse have been organising and running comprehensive events for Global Entrepreneurship Week Guernsey for four consecutive years and are delighted to announce that this year's activities will be sponsored by JT, with participation from a range of experts and support agencies including: Renew Guernsey, Airtel Vodafone, Black Vanilla, Blenheim Chalcot and more.
Daragh McDermott, CEO of JT, said: ''At JT, our people and our local talent are our greatest assets and critical to our success and the growth of the local economy. We believe in championing individuals and small businesses with big ideas, they are the entrepreneurs leading the way in innovation and pushing the boundaries in technology. As a business we have a strong track record in developing ideas and turning them into successes, and this is why we are proud to be a partner and sponsor of Digital Greenhouse's Entrepreneurship week, helping to encourage and support local talent that might one day become a global household name''.
The events begin on Saturday 12th November, with a  Zero Energy Buildings Hackathon with Renew Guernsey. This is a full day sustainability workshop where attendees will generate ideas for a digital solution for measuring renewable energy devices and energy conservation. The aim is to encourage all islanders to be more energy conscious and allows everyone to use the open-source data to drive forward solutions.
On Monday the Digital Greenhouse will host a breakfast event with Dr Jamie Coleman, Co-Founder of CodeBase, the UK's largest tech incubator. As a technology entrepreneur who has spent the last 20 years building companies, Jamie will explore the essentials that start-ups need to scale and succeed. Tuesday's event is a lunchtime Meet the Experts session, supported by Airtel Vodafone, giving a direct line for start-ups and small businesses to seek answers for their business questions from local industry professionals from a range of key services areas that are essential to starting a business.
On Wednesday, there will be an interactive lunchtime panel session packed with information on starting and sustaining your very own venture. During this panel, our local industry leaders will be discussing the key findings of the business support survey Black Vanilla Ltd and the Digital Greenhouse Guernsey launched in August of this year.
The much anticipated inaugural Véyaon Awards will be taking place on Thursday evening at St Pierre Park, celebrating the best in innovation and entrepreneurship Guernsey has to offer, with those nominated in September receiving their awards and much deserved recognition.