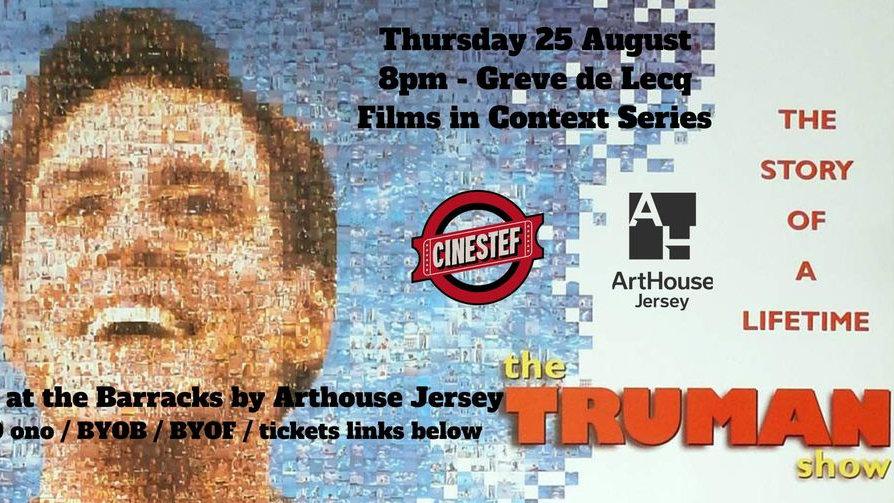 Films in context with Cinestef by Arthouse Jersey: The Truman Show
Cinestef is proud to present a new collaboration with ArtHouse Jersey to offer movie showings with a difference, compered by Stefan Rousseau.
The concept is to show films which have both a cultural depth and commercial appeal to cult status, and to present/introduce you to them in context, ie giving some information on the director, this particular film and reading perspectives to watch the movie through a different lens.
Once the movie showing is over, the plan is to have a conversation about the film itself compered by Stefan Rousseau, so that we can all enjoy different perspectives and refined appreciation for a movie we all know well or just discovered.
The Truman Show by Peter Weir (The Dead Poets Society, Picnic at Hanging Rock) 1998 – USA – 107mins : This now proper cult classic movie combines the raw stardom power of Jim Carey with a very clever conceptual screenplay by Andrew Niccol (Gattaca). It is not only intelligent but also deep in its questioning of the very notion of reality and society of spectacle, giving a unique perspective on notions that few ponder by themselves while never imposing a point of view but questioning the spectator while keeping him really entertained and content in his truly high end, entertaining and enriching movie going experience.
For those film buffs attending, there will be an opportunity to dig deeper into the films semantics with a post showing discussion held in our studio.
Cinestef appears on two nights, on Thursday 25 and Friday 26 August with an arrival time of 8pm for kick off at 8.15pm. Disability access and toilets on-site.
Tickets priced £10 with an option to pay less for those who aren't able to stretch to the full ticket cost.
Please also BYOB and popcorn if you wish.