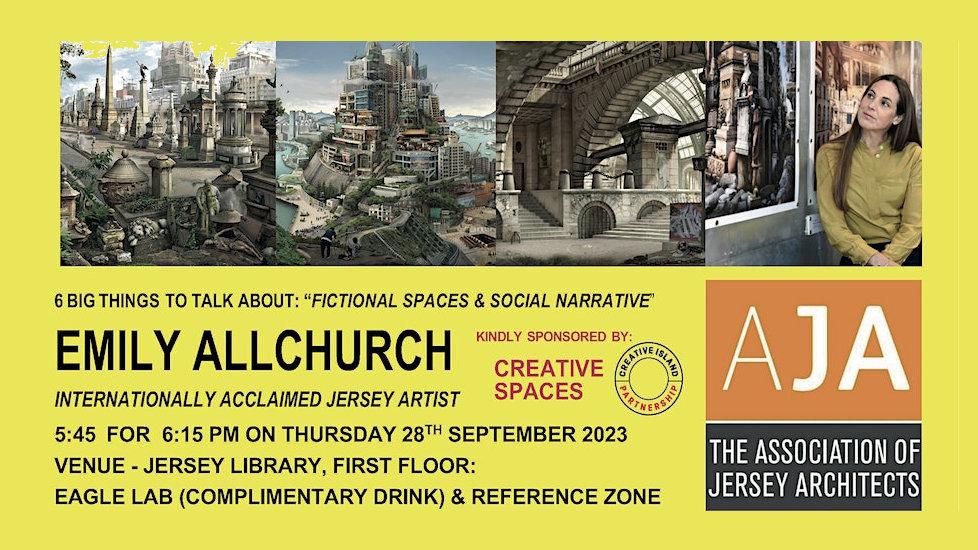 Emily Allchurch 'Fictional spaces and social narrative'
6 Big things to talk about…. The AJA welcomes everyone to a unique series of talks and discussions about how we can best shape our world, through what we call the 6Cs…. Context, Character, Connectivity, Community, Climate and Change.
We are inviting international and local speakers to present their ideas on architecture, engineering, biodiversity, placemaking and identity, story-telling, everyday life, art, happiness and delight…amongst other things. These talks are to stimulate a forum of discussion between both the community and its stakeholders and our industry members including contractors, developers, planners, architects, engineers, artists, authors and anyone passionate about our environment. Most importantly, we are inviting you to join in the discussions.
The Association of Jersey Architects in collaboration with the Creative Island Partnership are excited to announce Emily Allchurch, an internationally acclaimed Jersey born artist, is visiting Jersey to give a talk about "Fictional Spaces & Social Narrative". This event will take place on the first floor of Jersey Library, Halkett Place, St Helier.
A complimentary drink will be available from 5:45pm in The Eagle Lab with the talk starting at 6:15pm in the Reference Zone, followed by a Q&A session.
Biography
Emily Allchurch, born 1974 in Jersey, Channel Islands, trained as a sculptor, receiving a First Class (Hons.) degree in Fine Art from the Kent Institute of Art & Design – Canterbury in 1996, and an MA from the Royal College of Art in 1999, where she began working with photography as a material. Since then, she has exhibited regularly in solo and group shows in the UK and internationally. Emily sources and photographs buildings and urban landscapes, which she then uses to recreate old master scenes from a contemporary perspective.
As befitting a former sculptor, Emily uses the historic artwork as armature on which to build her collages. Meticulously splicing together hundreds of photographs, she creates an immensely detailed new fictional space underpinned by a strong social narrative.