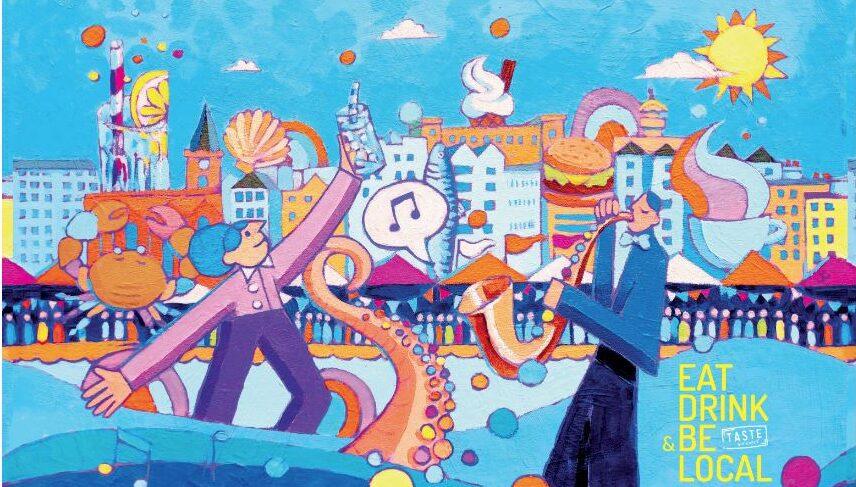 Eat Drink and Be Local Street Party
Eat Drink and Be Local Street Parties will be returning to Guernsey this summer
A wide range of stalls showcasing local produce will transform the St Peter Port seafront once again this summer, with the return of the Eat Drink and Be Local (EDABL) Street Parties.
The vibrant events will be testament to the island's wealth of produce and local talent, and will promote everything grown, caught, reared, produced and harvested within the Bailiwick. The Street Parties will take place across four Sundays on 7 May, 25 June, 6 August and 13 August.
The first event on Sunday 7 May coincides with the Coronation Big Lunch, part of the official Coronation celebrations, which encourages communities to come together and be part of history.
Alongside the food and drink stalls, local talent across the arts sector will also be highlighted, with craft and artisan stalls set to add to the buzzing atmosphere of the event. As usual, many of the seafront restaurants and bars will open their al fresco areas and there will be live music at each event.
Luke Wheadon, Chair of EDABL, said: "We are thrilled to be promoting local businesses again this year with the return of our Street Parties. EDABL is committed to creating opportunities for producers and entrepreneurs within the Bailiwick and the Street Parties act as a platform to celebrate and promote their products within our community.
"The Street Parties highlight the huge wealth of talent here in Guernsey and show the importance of supporting local businesses. The events always have an incredible atmosphere and we hope both islanders and tourists alike will enjoy their return," said Chris Humber, from the EDABL committee.
James and Emma Meller have been instrumental in introducing a more sustainable approach to one element of the event.  James said: "We are very conscious of the need for our Street Parties and how much plastic is used at our events and are excited this year to introduce a fully recyclable and biodegradable cup. They are PE and PLA plastic free and made from sustainably sourced paper grown from Scandinavian forests which is then manufactured in the UK."
"We worked with local artist James Colmer on the artwork used on the cup and are delighted with the final result, which we believe is a wonderful representation of the colourful, lively and fun events the Street Parties are.  We are working with our stall holders to use these instead of plastic to reduce our carbon footprint," added Emma Meller.