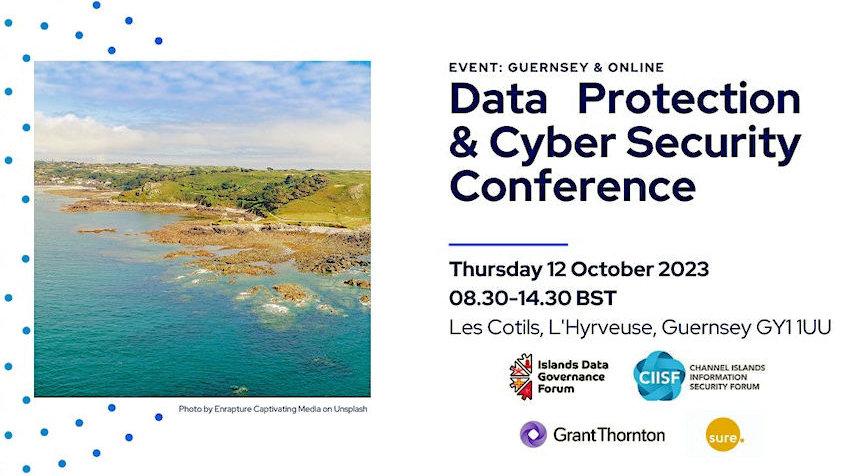 Cyber security and data protection conference
The Islands Data Governance Forum and the Channel Islands Information Security Forum (CIISF) is kicking off an exciting cyber security awareness month in October with an engaging headline conference featuring local experts and renowned off-island keynote speakers.
Data Protection and Cyber security are team games, in which everyone has a part to play. From the headline speakers to the least technical in the audience – this event will teach all something new.
Location
Join us in person in Guernsey at Les Côtils. We also aim to provide a remote option for off-island attendees who are unable to travel. Please note that capacity both in person and online is limited, so we recommend signing up as early as possible.
Schedule
08:30 – 09:00 – networking
09:00 – Guests to be seated
09:00 – 09:10 Opening
09:10 – 09:40 David Carney, Director – What does ESG have to do with privacy?
09:40 – 10:30 Matt Palmer Director of Jersey Cyber Security Centre – What is REALLY happening in cyber?
10:30 – 10:45 Break
10:45 – 11:20 Peter Bassill, Head of CERT.Gib and CEO of Hedgehog Security.
11:20 – 12:00 Panel Discussion with Regulators from across the Islands.
12:00 – 12:30 Lunch
12:30 – 13:10 Bradley Tosso, Director of Information Rights and Operations, Gibraltar Regulatory Authority.
13:10 – 13:40 Lori Baker, Vice President, Legal & Director of Data Protection Dubai International Financial Centre Authority.
13:40 – 14:15 Richard Field, Partner Dispute Resolution – That Friday Feeling – lessons learned from cyber incidents.
14:15 – 14:30 Closing remarks.
Cost
Attendance is completely free, including teas, coffees and lunch. Due to the cost of delivering the event (which include hotel, catering, speaker costs, and AV facilities for remote delivery) a £25 charge is payable for non-attendance or cancellation at less than 24 hours notice. To help us plan, we encourage early sign-up.