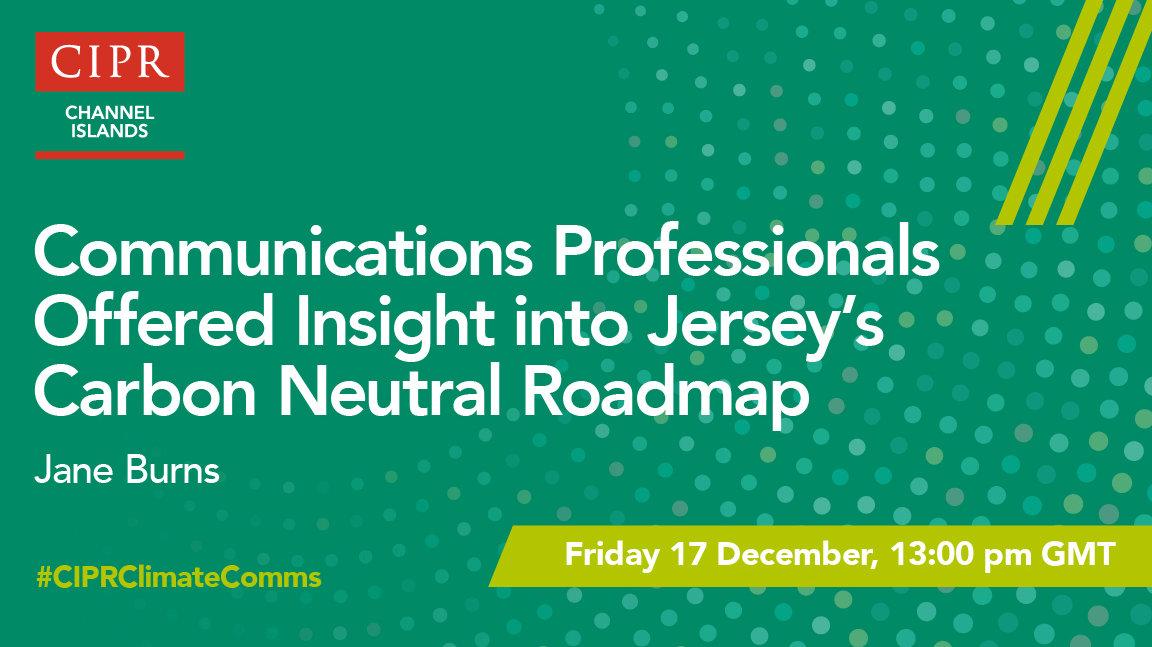 CPIR offers insight into Jersey's carbon neutral roadmap
The Channel Islands branch of the Chartered Institute of Public Relations (CIPR) is hosting a webinar with Jane Burns, Sustainability and Climate Change Engagement Manager for the Government of Jersey, on the day Jersey's Carbon Neutral Roadmap will be published.
The webinar, scheduled for 1pm on 17th December, is part of a CIPR series of sector and region-specific climate change events to support practitioners in better understanding the issue of climate change and to explore the impact of COP26 on the public relations industry.
The preferred strategy for Jersey's Carbon Neutral Roadmap will set out the proposed policies for ensuring that the Island's carbon output is neutral by 2030, and which will affect all businesses and individuals.
The Channel Islands CIPR online briefing on the proposed strategy, will hear from Jane Burns, who has been closely involved in the strategy's development and will help with its implementation. She will discuss:
The strategy's proposed contents
What will happen during 2022 and beyond?
What it will mean for businesses and communicating their ESG activity.
Jane Burns has been involved in delivering the Carbon Neutral Roadmap through the people-powered approach which has put the voice of the community at the heart of the long-term climate action plan. Jane has a background in youth and community work and is passionate about making sure everyone has a voice on our response to the climate emergency.
Jersey's Carbon Neutral Roadmap sets out five position statements that provide the basis for the detailed plans that will be released for consultation in the Carbon Neutral Roadmap in December, including: increasing the speed of decarbonisation, committing to the science-based plans set out in the Paris Agreement on Climate Change; taking the necessary steps to ensure Jersey can become carbon neutral by 2030; reviewing the balance of cost, security and sustainability of the Island's energy supplies; providing £23m of initial investment, and identifying new funding routes for future years; and ensuring the Climate Emergency Fund is spent in areas that provide the biggest reduction in carbon emissions and other local benefits.
"The local CIPR committee is delighted to participate in the CIPR's timely series on climate change and we anticipate that Jane will offer local communications professionals an insight into the contents of Jersey's Roadmap and what it means for local businesses.
"The impact of climate change and the road towards net-zero is hugely topical and no doubt Jane's insights will feed into our communication strategies for 2022," said Nichole Culverwell, CHART. PR, MCIPR and Chair of the Channel Islands' CIPR Group.
---
There will be time allocated for questions from attendees.
Attending the webinar is worth 5 CPD points for CIPR members. Tickets are free for CIPR members and £5.00 for non-members.