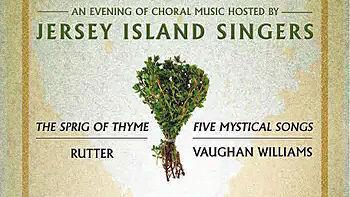 Concert: A Sprig of thyme – Celebrating Summer
Jersey Island Singers' summer concert at St Aubin on the Hill Church, Mont Les Vaux, on Friday 15th July has something for everyone.
Francis Murton, the choir's Musical Director, says: "With music from the stage, concert hall and church, the choir has gone all out to bring a wide-ranging concert.
"Accompanied by Michael Wynne, who will be performing solos on the organ, we have soloists from within the choir plus two young rising stars, Charlie Dicker and Joseph Barette who will each sing a favourite piece of their own before joining together in Vaughn William's Five Mystical Songs.
"Charlie recently won the PWC Young Musician of the Year and Joseph finished a run of Yeoman of the Guard with the Jersey Gilbert andSullivan Society in May".
Proceeds from the concert will be given to the Church's roof restoration fund. Refreshments will be served in the Church from 7.30pm with the concert starting at 8pm.