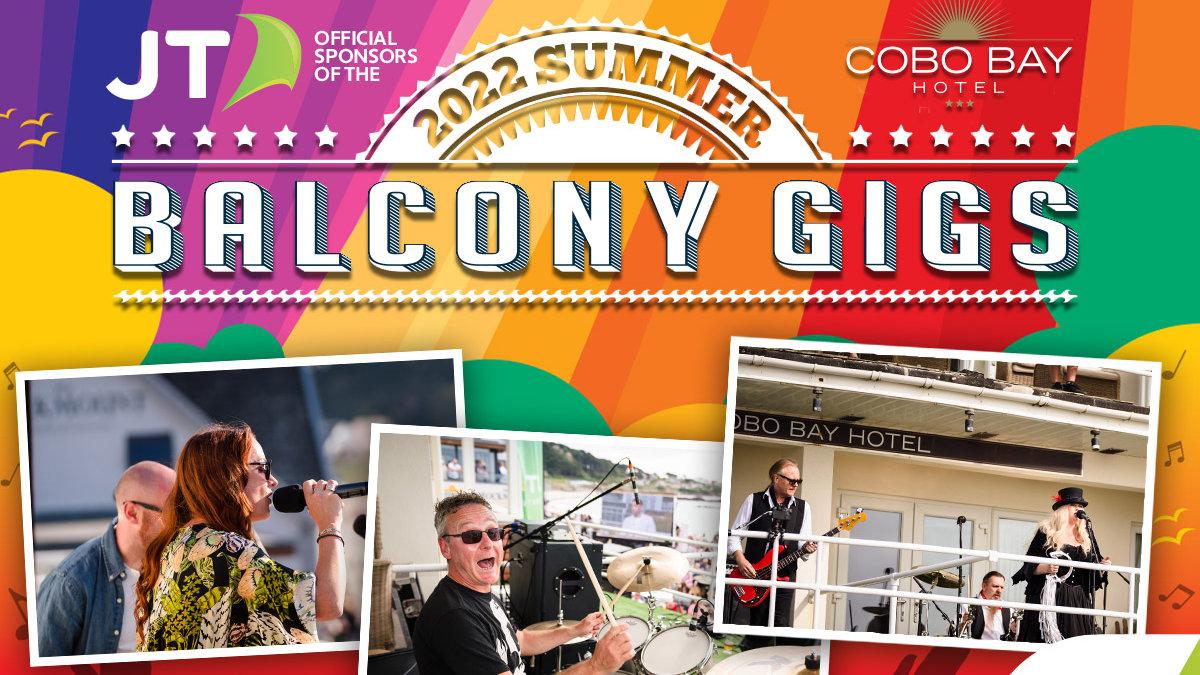 Cobo Bay Balcony gigs – Tribute to Queen
The Cobo Bay Balcony Gigs, proudly sponsored by JT and seen by many as an essential part of the Guernsey summer, is back for 2022 and for the first time in three years has a line-up of international acts, supported by Guernsey's leading local talent.
The Balcony Gigs have always been about bringing people together and for a number of years JT has been using its technical support to live stream them so that anyone who can't make it to the gigs can join in the fun online from wherever they are.
A tribute to the legendary Duran Duran will kick off the series of free family friendly gigs continuing through the summer to the August Bank Holiday.
David Nussbaumer, organiser of Cobo Bay Hotel's Balcony Gigs, said: "We are itching to get going and I am thrilled that we are bigger and better than ever, welcoming bands from the UK once again to this amazing west coast venue. Thanks to more than a decade of support from JT, we have together transformed the Summer Balcony Gigs into the most sought after event series each year. With this partnership we have kept the Guernsey summer alive even during the challenging times we have all faced. We have so much to celebrate and to be thankful for and we will be doing that all the way from May until the end of August. The true spirit of the Guernsey summer is coming, and I can't wait."
Tamara O'Brien, JT's Deputy Managing Director in Guernsey, said: "Once again an awesome line up has been announced for the Cobo Bay Hotel Balcony Gigs, in this our 11th year of sponsoring the events. We know how lucky we are to enjoy these free events in such an idyllic location, which provided a massive boost for islanders over the past two years. Now as the world opens up, we can once again enjoy large outdoor gatherings with family and friends from outside the Bailiwick and this event marks a very special moment for Guernsey and our hospitality industry.
"I always look forward to these events which to me signal the start of the Guernsey summer. There is some amazing musical talent here and the Cobo Bay Balcony Gigs are the best place to see them perform live."
Keeping with the great Guernsey tradition of supporting local charities, a collection at every event will support the two charities being supported by Cobo Bay, Guernsey Cheshire Home and JT, Autism Guernsey.
Holding events in such beautiful surroundings comes with added responsibilities and all those attending will be asked to play their part to help ensure that Cobo Bay remains litter free by collecting and taking home their rubbish.
The Schedule of gigs is as follows:
Sunday 8th May: A Tribute to Duran Duran
Sunday 29th May: A Tribute to The Jam
Sunday 26th June: A Tribute to Oasis
Sunday 10th July: A Tribute to AC/DC
Sunday 7th August: A Tribute to The Killers
Sunday 28th August: A Tribute to Queen