Coastal Impressions exhibition
Alderney will be the location for an exciting exhibition of paintings by two artists, taking place in July.
The wild beauty and uniqueness of the island enticed Nic West to sell her belongings and move from the UK eight years ago, to a weather battered building on top of a Victorian fort to set up as an artist. At her first Open Studio event six years ago, Nic had a serendipitous meeting with another artist Melissa Franklin Sanchez, who dropped by to view her paintings.
Melissa is also passionate about Alderney, spending summers on the island for over thirty years. With family residing here, it is home from home and its dramatic landscape a great source of inspiration.
The two artists met again at an exhibition which Nic held last summer, and a seed was sown to work on a collaborative exhibition.
Their forthcoming exhibition beginning on 15th July, will bring together two very different painting styles.
Nic is self-taught. Her abstract paintings are an emotive response to her surroundings. She explained: "I have a basic lifestyle on the island, I don't own a car, I walk everywhere, I soak up details, colour, light, landscapes to later create my interpretation of sea, storms and coastal textures in acrylic and mixed media on canvas."
Melissa lives in Italy and is Director of the 'six week intensive workshop, drawing, painting and Art History' at the Florence Academy of Art. She works in oil, predominantly on copper and brass panels.
She said: "Light, time, emotion, are always inspirational to me, whether painting the ever-changing landscape or a quiet interior. Searching for the essence of my subject that goes beyond its visual reality. Working directly from nature and from memory I am always trying to capture my experience or relationship with my subject.  I am fascinated with working on copper and other metal surfaces that give a beautiful warmth and luminosity. With their endless possibilities I am always rediscovering and pushing myself technically. My family life and travels continue to be inspiration for my work."
Both artists have had individual success. Nic has previously been shortlisted for the Royal Academy Summer Exhibition and had a solo exhibition at the prestigious CCA International gallery in Jersey showing her paintings in a space shared with limited edition prints by artists including Damien Hirst and Sir Peter Blake.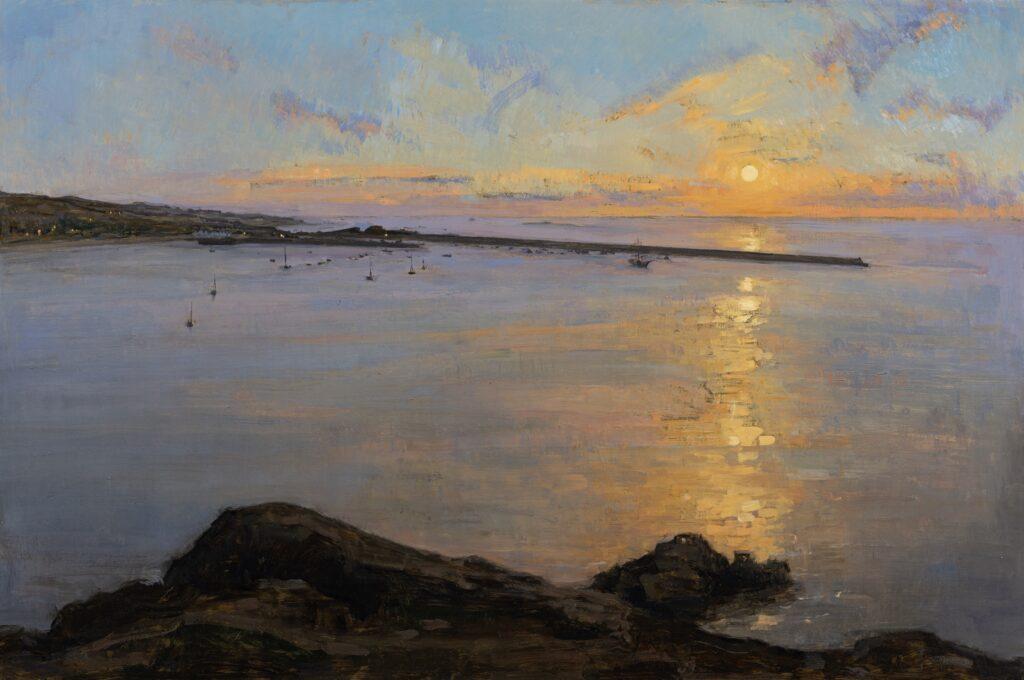 Melissa's work is represented in both Europe and the USA. By Scriba, InPARADISO Gallery, Venice, Italy; Grenning Gallery, Sag Harbor, NY, and Jack Meier Gallery, Houston, Texas.  Her work can be found in private and public collections through Europe and the USA, including the prestigious Accademia della Crusca, Florence.
Showing their work together will provide an intriguing contrast and a talking point, as well as potentially being the first time two women artists have collaborated on Alderney.
In 'Coastal Impressions' both artists share their unique way of seeing the world around them, each using their own pictorial language to express the connection they have with their subjects.  Taking a personal path, experiencing and interpreting their relationship with nature and their vision of the beautiful Alderney coastline.
The venue for their show is in the Blonde Hedgehog & Ravenscroft shared office on the High Street, where they will show around a dozen paintings each.
Julie-Anne Uggla and Tracey Farquhar-Beck, directors at The Blonde Hedgehog said: "We are thrilled to have the opportunity to support these two exceptional artists who are not only immensely talented but have strong connections with Alderney."
Mark Bousfield, group managing director of Ravenscroft said: "Ravenscroft has had an office in Alderney for nearly a year and our team comes up regularly to meet clients and talk to islanders about how we can help meet their investment objectives. It's lovely to be able to come into the office and see different artwork and we look forward to seeing Melissa and Nic's work."
Nic and Melissa are also very grateful that their event is being supported by Guernsey Arts, The Blonde Hedgehog and Ravenscroft.
---
Main picture: Melissa Franklin Sanchez