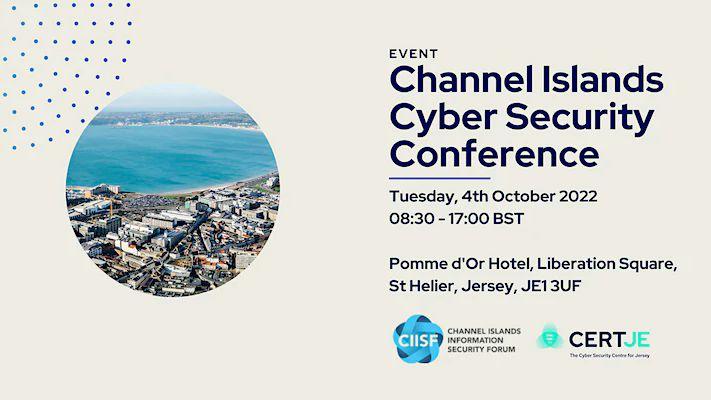 Channel Islands Cyber Security Conference
The Channel Islands Information Security Forum (CIISF) – supported by CERT.JE – is kicking off an exciting cyber security awareness month in October with an engaging headline conference featuring local experts and renowned off-island keynote speakers.
After two years away, the CIISF's annual conference is back! Attracting a great mix of senior decision makers, directors, cyber security and IT professionals, NEDS, risk and compliance experts and other business, third and public sector leaders this conference is broad in appeal and rich in the depth of knowledge you can take away and apply to your organisation.
Cyber security is a team game, in which everyone has a part to play. From the headline speakers to the least technical in the audience – this event will teach all something new.
Where will it be held?
Join us in person at Jersey's historic Pomme D'Or Hotel. We also aim to provide a remote option for off-island attendees who are unable to travel. Please note that capacity both in person and online is limited, so we recommend signing up as early as possible.
What is the schedule?
Breakfast and networking from 08:30
Guests to be seated by 09:00 for Opening by Deputy Kirsten Morel
Hot lunch provided
Finish by 17:00 latest
Who are the speakers?
Deputy Kirsten Morel – Government of Jersey's Deputy Chief Minister & Minster for the Economy.
Marcus Willett CB OBE – GCHQ's first Director of Cyber, and is senior adviser for cyber at the International Institute for Strategic Studies (IISS).
Ken Munro – a security entrepreneur and industry maverick, Ken has hacked everything from hotel key cards to keyless cars, and a range of Internet of Things (IoT) devices from wearable tech to children's toys and smart home control systems.
Stuart Powell – CISO at the Government of Jersey.
Deputy Alex Curtis – Government of Jersey's Assistant Minster for the Economy with responsibility for Digital.
Simon Hepburn – Chief Executive Officer of the UK Cyber Security Council (UKCSC), the self-regulatory body for the UK's cyber security profession who develops, promotes and stewards nationally recognised standards for cyber security profession.
Matt Palmer – Director of CERT.JE, Jersey's Cyber Emergency Response Team.
Panel discussion – Panelists and additional speakers coming soon.
What does it cost?
Attendance is completely free, including breakfast buffet and hot lunch. Due to the cost of delivering the event (which include hotel, catering, speaker costs, and AV facilities for remote delivery) a £25 charge is payable for non-attendance or cancellation at less than 24 hours notice. To help us plan, we encourage early sign-up.
Cyber Security Awareness Month
This event is part of Cyber Security Awareness Month when CERT JE; Jersey's Cyber Emergency Response Team, have been working with a number of organisations and partners across the Jersey community to develop a month-long programme of events.
We want to develop and enhance cyber security awareness in Jersey, supporting individuals and businesses to understand how best to prepare for, protect from and defend against cyber threats. We will be providing a platform and forum for discussions surrounding cyber security, data protection and regtech with a number of experts in their field sharing their expertise, views and experiences. We will also be working with groups to host mock cyber incident exercises to support participants develop a greater understanding of the potential challenges faced by businesses in the event of cyber emergencies.