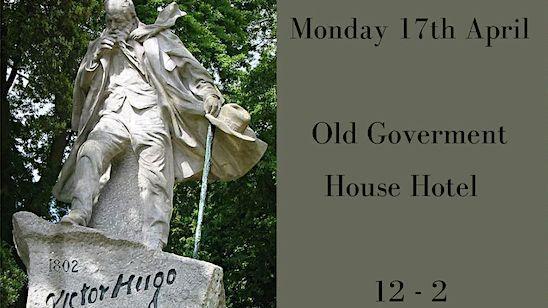 Building momentum for the Victor Hugo Centre
This event will be unveiling the plans for the proposed new Victor Hugo Centre. As the island that inspired Victor Hugo's creativity and imagination and many of his finest works, this centre aspires to celebrate this.
Join us at the event to find out about all the opportunities that this redevelopment will create for you and our community.
---
The Victor Hugo Centre Chair, Larry Malcic, will be the guest speaker at the Guernsey Chamber of Commerce lunch on Monday, 17th April.
The event, sponsored by PWC, will provide guests with an update as plans for the Victor Hugo Centre continue to progress.
Victor Hugo described Guernsey as 'the rock of hospitality and freedom', and the Centre will celebrate both his connection to the island and his global legacy. Private fundraising has begun to pave the way for the transformation of the former States Offices on the North Esplanade into the Victor Hugo Centre.
Larry Malcic will discuss the Centre's vision as a place that celebrates Guernsey's inspirational role in Hugo's life, work and legacy and the island's continuing ability to stimulate a thriving and talented creative community for the benefit of islanders and visitors alike.
Designed in collaboration with DLM architects, engineers Dorey Lyle & Ashman and internationally recognised exhibition designers Casson Mann, the plans will reveal an innovative, immersive, and exciting project for Guernsey's future.
Larry Malcic, chair of the Victor Hugo Centre, said: "During the 15 years that Hugo lived in Guernsey, he was inspired by the island's landscape, its people and the dramatic, ever-changing sea. This project will be a focal point for international interest in Hugo and a place for the community and visitors to our island to learn more about Guernsey's most famous resident and his connection to the island which became his home. The Centre will celebrate Guernsey as an island that continues to inspire creativity and imagination."
Alice Gill, Executive Director at the Guernsey Chamber of Commerce, said: "This is an exciting project for Guernsey, and it is a confident investment in our island's future which will build our cultural brand and provide economic as well as social benefits. We look forward to hearing more from Larry and the Victor Hugo Centre team at our April lunch."