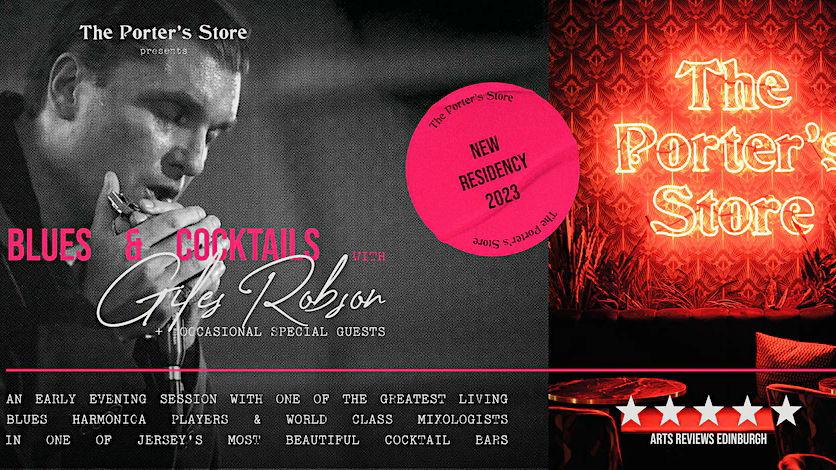 Blues & Cocktails monthly residency @The Porter's Store with Giles Robson
The Porter's Store, one of Jersey's most stylish and sophisticated boutique bars is proud to present an early evening of luxurious cocktails and world leading blues music.
Located in the basement of the famous Pomme d'Or Hotel (Wharf St. Entrance), The Porter's Store hints towards a classic Manhattan night spot whilst boasting an undeniable contemporary edge and a range of cocktails served from its iconic island bar.
The Porter's Store provides the perfect high quality intimate setting to enjoy one of blues music's most respected international stars plus on occasion special guests. Blazing a trail across the world, Giles Robson is considered one of the greatest living blues harmonica players, singers and is a master showman.
Upon arrival, enjoy your choice of a Bellini cocktail or a glass of Prosecco included in the ticket price.
A fine blues playlist curated by Giles featuring the best of the music throughout the decades will spoil your ears before and after his show as you adventure through the drinks menu and enjoy unrivalled cocktails prepared by expert mixologists.
With doors opening at 17:30 and music from 6:00pm to 8:00pm, the Porter's Store Cocktails and Blues is a perfect early evening aperitif experience to kick start your night out in St Helier. Giles Robson
Multi award winning, internationally recognised Blues harmonica virtuoso, singer and masterful showman Giles Robson has had a dream musical career. The ONLY UK or European artist to appear on Chicago's legendary Alligator Records who described him as "A blues giant, absolute master of the form". He is only one of THREE UK blues artists alongside Eric Clapton and Peter Green to win a coveted Blues Music Award in Memphis (The Grammys of the Blues). His albums are in the top of the world's most prestigious music magazines critics polls – Mojo Magazine, Living Blues and Downbeat and he yearly tours over 15 countries across the world a year.
He plays and sings beautiful, powerful, emotional and timeless blues with a deep groove and laden with intense feeling. He is widely considered one of the world's greatest blues harmonica virtuosos. He plays in his own accomplished and distinct style that captures stunned audience's hearts and imaginations with his mixture of superb technique, rhythmic power, tonal control and sensitive emotional expressiveness. Witnessing Giles Robson live is a dazzling, and unforgettable experience as audiences from around the world constantly discover.
Reviews of Giles Robson live
"This was a headline act to be proud of, full on entertainment leaving the audience satisfied and ready for more, a flawless upbeat performance" Blues Matters Magazine – Carlisle Blues Rock Festival
"One of the world leaders in the blues harp: I call singer and songwriter Giles Robson. The man has become a real blues giant and actually a bit "unavoidable". Powerful vocals, a virtuoso on the harmonica and hard to match live beautiful harmonica work…It goes without saying that the man belongs to the top of the world" Rootsville Banana Peel Club Review, Belgium
"Giles Robson delighted the Madrid public with his virtuosity on the harmonica, his voice and his good work in the ancient arts of the most classic blues. The sounds that came out of the cells of Mr. Robson 's harmonica made a respectable devotee travel from Memphis to Chicago and back and feel the waters of the Mississippi in the depths of his being. And it is that our guide that night, despite being born on this side of the ocean, he knows the language and mysticism of blues like no one else and transmits them song by song". Ballesterock Reviews, Madrid Spain
"A brilliant Giles Robson gig. He was the headliner and lived up to that in every respect. Giles Robson inspired with his wealth of ideas on the harmonica and was able to involve the audience in the stage action again and again". Zyfflich Rocktimes Germany
"Thursday night we jumped to Milwaukee Puerto Santa Maria to witness the live show of Giles Robson I must say it's one of the best blues concerts with no additives or preservatives I've ever seen. A winner of much deserved awards by the most distinguished institutions worldwide do him justice, he entered our insides and shook our soul from the inside out with the strength of a titan". Qconcieratos Music Magazine club review Spain
"For the last song, Giles Robson was asked to take the stage and "Sweet Home Chicago" was used. The fire on the stage is stoked with a sublime harmonica battle, in which Messrs. Bell and Robson fought a magnificent duel. Music is not a competition and I will not declare a winner on stage. The big winner was the audience". The Blues Alone, Rotterdam Evening With the blues Review
"With his rousing Mississippi saxophone and his great voice he blows everyone's socks off. Blues of the highest order, classic but with a modern twist. Everyone loves Giles Robson. Assisted by a solid band, the man was completely ready to blow us off our socks and he did. Giles showed why he is a master on the harmonica. Wow! Phenomenal what the man manages to squeeze out of that little thing. There followed some phenomenal instrumentals that knocked everyone out. Game, set and match for Mister Giles Robson!!" Rootsville.eu Stekene Blues Festival Belgium review
"The first of the highlights on Thursday was The Bruce Katz Band with Giles Robson. Bruce Katz only started the program in a trio, which made the breath-taking organ and piano stand out. Katz did not brake before the plunge turns to jazz. The more traditional blues form came when the American keyboardist was joined by British harmonicist Giles Robson, one of the instrument's most respected virtuosos". Lidovky.cz Blues Alive Sumperk Review