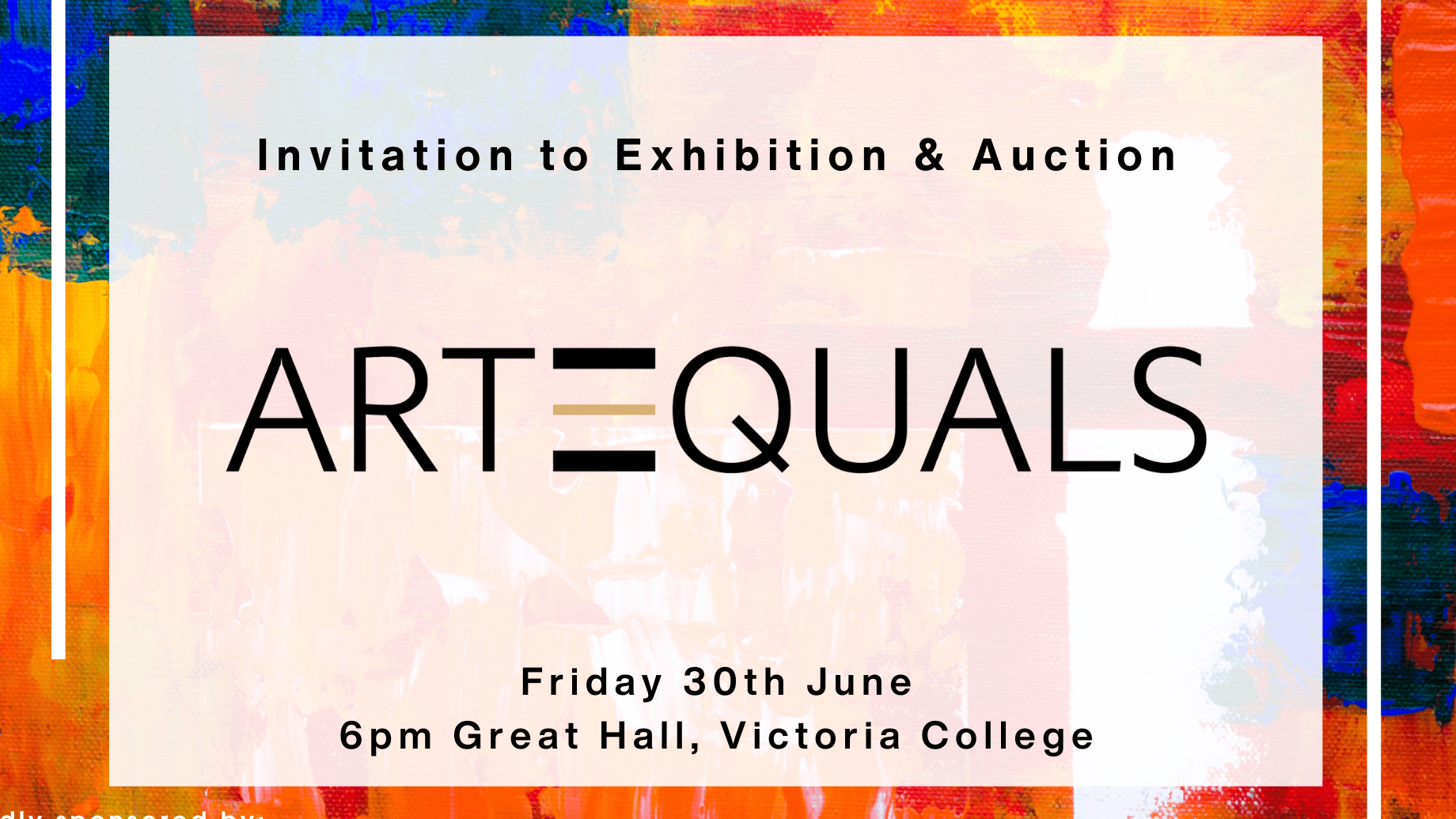 ArtEquals Exhibition and Auction
On Friday 30 June Victoria College Foundation will launch 'ArtEquals'.
This is a first of its kind combined exhibition and auction event, which will provide our students with the opportunity to shine in visual art and, uniquely, exhibit their own artwork alongside those of local professional artists. The aim of this is to raise funds for the development of a wonderful new project focused on supporting positive student mental health at Victoria College – the new 'Wellbeing Garden'.
Planning for ArtEquals was launched in January 2023 and has seen Victoria College students initiate artwork in their own time. This has given them the opportunity to express themselves freely through visual art, take a break from screens, to relax and do something that will also benefit others. Under the broad theme of wellbeing, the students have been encouraged to immerse themselves in creativity, exploring themes of 'my happy place', 'on my mind', and 'creative courage'.
Victoria College Foundation & Alumni Officer, Emily Sweeny, said: "Throughout the summer term, students have worked incredibly hard to complete their pieces, taking part in after-school workshops with Design & Technology teacher and textiles artist Mr Kyle Moody, and spending numerous lunchtimes in the Art Department. It has been such a fun and creative experience and wonderful to see how the whole Victoria College community, including students, parents and staff have really got on board.
"To further enrich the students' artistic experience and as a final instalment on their creative journey, we now look forward to an inspirational silk screen printing workshop; this is courtesy of Anna Shipley, Education Officer at ArtHouse Jersey, and PJ Thomson, Lecturer in Art and Design at Highlands College.
"Members of the Victoria College Parent Association, who were not only the inspiration behind this event but who have also been integral to its planning, went on to say, 'Thank you to the whole community for your support of this inaugural event – to the Victoria College Art Department for endless hours supporting our students, to mental health organisations such as Man Club Jersey for their input, and to the local artists without whose generosity and support this event simply could not have gone ahead. We cannot wait for all of these amazing pieces to be on show at the end of June."
Headteacher, Dr Gareth Hughes, said: "With young people's mental health a key priority for Victoria College, a unique event that brings sections of our school and wider Island communities together with a focus on creativity, fundraising and wellbeing is wonderful. I'm so very grateful to everyone that has contributed to ArtEquals and I am very much looking forward to being there on the evening and feeling the buzz in the room!"
Islanders are invited to attend the exhibition and auction at the Great Hall, Victoria College on Friday 30 June between 6.00 and 8.00pm where artwork donated by many local artists including Ian Rolls, Nick Romeril, Abi Overland, Rian Hotton, Louise Ramsay and PJ Thompson will be auctioned alongside our students' work. Students from Victoria College will receive up to 50% of the sale proceeds of their artwork, and the remainder will go towards the new Wellbeing Garden, of benefit to all our students and which we hope to see constructed in the very near future.