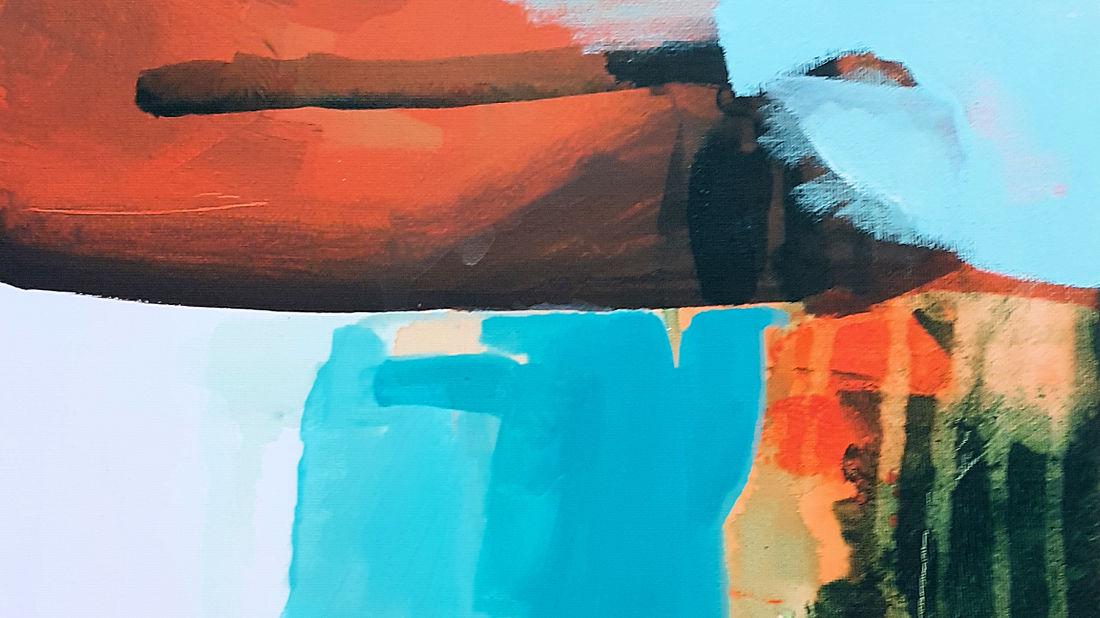 Art exhibition: Wild Places by Graham Tovey
Art is intrinsic to Graham Tovey's life, providing connection and expression to the many things which move him.
Whilst living in France, Graham embarked on a six-year photographic project to raise the profile of often overlooked women artists, producing black and white portraits of the artists and their paintings. "Female artists have often been unfairly neglected," Graham comments, "though opportunity to be creative has been limited by society's expectations of a woman's role."
When Graham moved to Jersey, he gave up photography to concentrate on painting, selling his evocative land and seascapes through the Harbour Gallery. Graham's paintings have also been exhibited in London. However, three and a half years ago Graham experienced a series of devastating strokes which almost killed him, and which twice left him with paralysis on the left side of his body. The strokes also damaged Graham's sight, causing visual field loss, so that he now sees a blank space on the left side of his vision.
Thanks to Graham's innate tenacity and the wide-ranging support he received, he has relearned how to walk. However, the impact of life changes on his mental health was considerable, and responsible for panic attacks. Recognising that he had to take his mind off his problems, and with encouragement from his wife, Graham felt a pressing need to reconnect with painting.
EYECAN, and Graham's Occupational Therapist, have provided him with practical support, but the desire to lose himself in art has really driven his success. Graham is right-handed and still able to wield a paintbrush, however some techniques have helped him when working on his paintings. To ensure the edges of his canvas are apparent to him, Graham positions it on a contrasting background. He has also learned to scan images to the left, which he might otherwise not perceive, as for a while Graham's paintings reflected the blank areas of his vision.
Graham no longer sees with clarity, but he is very skilled at using a thick brush, a palette knife and 2-3 strong colours to achieve arresting impressionistic scenes which resonate with his audience.
Graham now paints from memory, revisiting inside his head the memorable places and the natural world he has always loved so much. His imagination has also been fired by listening to Robert MacFarlane's The Wild Places, which is available as an audiobook.
An exhibition of Graham's beautiful, atmospheric paintings will feature at Jersey Library from 5.30pm on Thursday, 11th August to 8th September. Fifty percent of profits from sales will go to EYECAN, the charity which supports Islanders with sight loss.
As Graham explains: "You need to get into your own world and adjust your painting to your sight loss, but art is hugely rewarding and so much can be achieved." The truth of this sentiment is evident in Graham's lovely paintings.
"The prospect of returning to painting felt challenging but going to EYECAN with its friendly atmosphere, helpful staff, plus meeting others with eye problems has encouraged me enormously. At first, I could only concentrate for short periods and even now feel tired after painting. However, as I become completely absorbed it helps me escape from worrying about health issues. The blank spaces on the left of my paintings are due to visual field loss in my left eye. Since I had a cataract operation these have reduced.
"My inspiration for this exhibition is taken from the naturalist Robert MacFarlane's book, 'Wild Places'. Paintings are from my imagination – places I've never been to except inside my head. In the world, at this current time, our 'Wild Places' are sadly diminishing.
"I would like to encourage anybody with sight difficulties to contact EYECAN who provide many other opportunities to support sight loss and wellbeing.
"Thank you to Jane and her team – you have opened my door and let in the light!"
---
All paintings are acrylic on canvas. Anybody wishing to purchase a painting, please telephone 07797 769827 or 769667. Fifty percent of the profits from sales will go towards EYECAN.