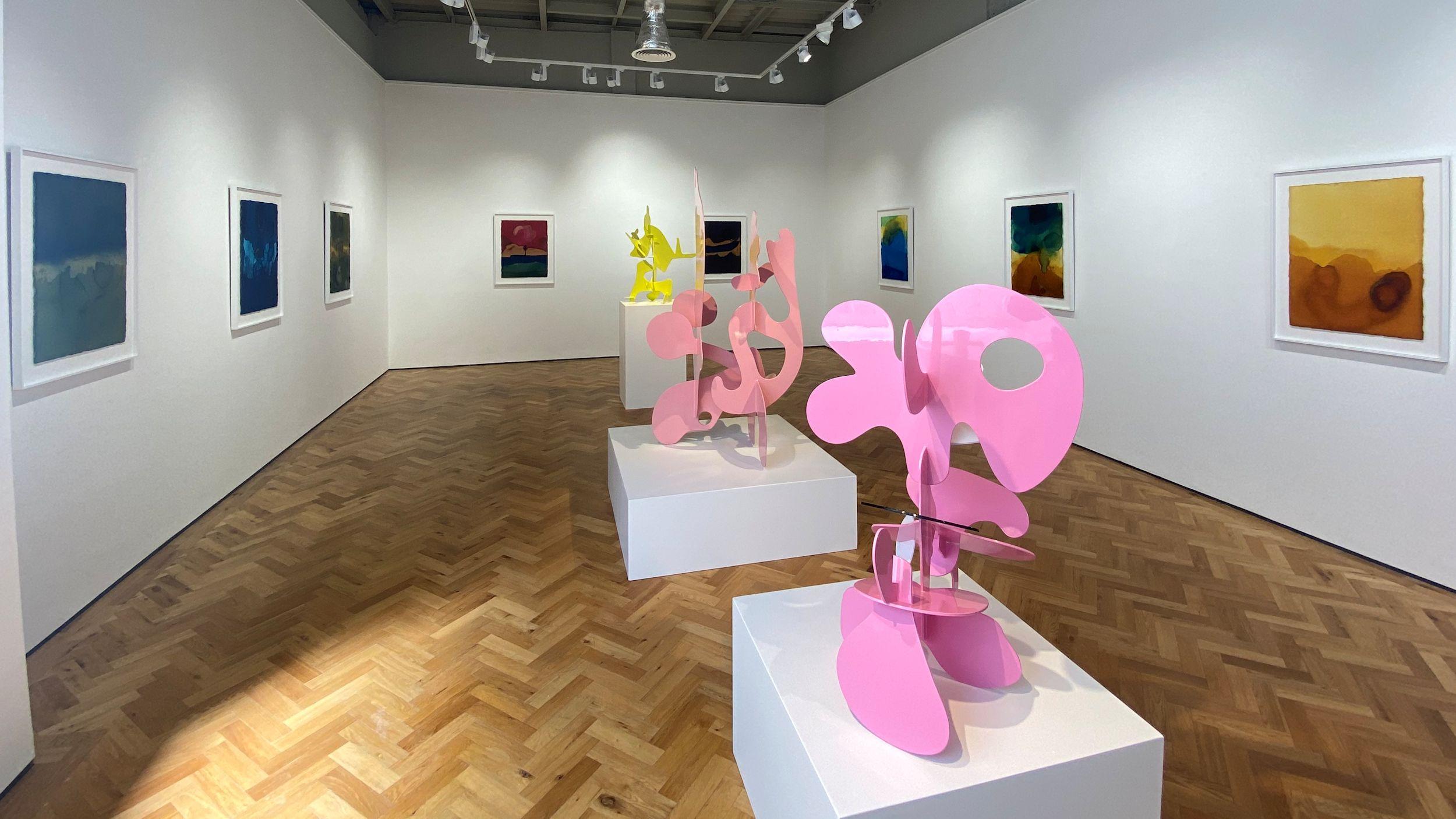 Art exhibition: 'Synthesis of Colour'
It is with great pleasure that Private & Public Gallery announces the opening of 'Synthesis of Colour' which is a joint exhibition by the internationally acclaimed artists Jason Martin and Misha Milovanovich in conjunction with local artist Nicole Smith.
The exhibition previews on Friday 17th June at 5pm and everybody is welcome to attend.
Jason Martin
Jason Martin was born in Jersey in 1970 and educated at Victoria College under the late Robert Tilling RI MBE before completing his artistic studies at Goldsmith College in London. In what has subsequently been a hugely successful career he is unquestionably the greatest artist from Jersey of his generation and has exhibited works in the world's leading galleries and museums.
Jason channels a minimal approach to painting through an expansive yet controlled use of colour, brush and medium. Working in pigment, acrylic, oil paint, graphite and cast metal, he interrogates the fundamentals of painting, veering from epic and luscious compositions of swirling forms to pared-down and muted abstractions in precisely blended tones.
Structured according to the harmonic relationships between these hues the paintings manifest as psychedelic chromotypes exploring suggestions of landscape and atmosphere through the viscosity of the paint or the granular texture of other precious material added to it. Albeit with the occasional intervention of chance, moments of happenstance and the unexpected whorl of chaos, this process of repeated, sweeping gestures has been honed over the years.
Jason also fluctuates his studio practice between sculpture and painting. In monochromatic, pure pigment works, vivid colour is applied to moulded panels, whose baroque contortions appear like extreme close-ups of a painter's ridged and furrowed palette. Uniting his practice is an attempt to further the language of abstraction through discrete and measured interventions, which both disrupt and activate the surfaces and spaces he inhabits.
About this exhibition Jason says "It is a great honour to be exhibiting at Private & Public which is the leading modern and contemporary art gallery in Jersey. I look forward to showcasing my most recent paintings and reconnecting with old friends and meeting many new collectors on island".
Misha Milovanovich
Belgrade-born artist Misha Milovanovich has been living and working in London for many years and works across several mediums, from sculpture to painting and crypto art. Characterised by vivid colour, optical movement and energetic visual cadences, Misha's art fuses a diverse repertoire of images and forms. She often features discarded shards of consumerism, unloved icons of disposability and careless consumption.
Misha's work is often a symphonic abstraction. Her colourful, densely layered works are held in a state of tension between order and chaos, rational structure and spontaneity. She combines depth and surface relief, orchestrating bold contrasts of form, texture and space in her artworks and an intimate colour palette of red, pink, white, black and yellow which animate the writhing forms and the refracted memories of cartoonish cultural production.
A cultural polymath, Misha is constantly engaged in observing society and it's distortions of desire, lust and attitudes to the body. Traditional techniques have been studied and absorbed and although her work is partly conceptual the execution always reflects a profound understanding of her medium and technical skill.
Misha's main subject matter is emotion, so naturally her work is highly personal and biographical in ways that create a direct, emotional response from the viewer. Empathy and the universals of human experience – passion, nostalgia and desire are inescapable in her work.
Gallery Director Chris Clifford says: "Entire movements in art history have devoted themselves to the study of colour. Artists like Wassily Kandinsky, Piet Mondrian, Henri Matisse and Carlos Cruz-Diez contributed to the field through their experimentations with warm and cool palettes, complementary colours and chromo-saturations so this exhibition builds upon that understanding and is perfectly timed at the height of summer when sunlight illuminates every aspect of nature".
Managing Director of Islands Private Clients Jim Purkiss says: "Islands Private Clients are extremely proud to be sponsoring such as prestigious event. Jason Martin and Misha Milovanovich are two extremely talented artists and it is a pleasure to be associated with them. To hold this event in such a spectacular venue, the Private & Public Gallery, is an incredible feature of what promises to be a very special and colourful exhibition."