Anatomy of a Crime Thriller event
Great thriller writers create settings which put readers at the heart of every scene, sharing the sights, sounds, smells and textures with the protagonist. They create complex characters who are both credible and relatable so readers care what happens to them – both good and bad.
And then they develop the plot, weaving their stories in and out, keeping us guessing and drawing us in.
On Saturday 10th June 2023, The Alderney Literary Trust will welcome three best-selling crime thriller writers to talk about their latest books and the crucial ingredients of their gripping stories.
So if you ever wondered why some thrillers leave you feeling flat while others keep you on the edge of your seat, unable to turn the pages fast enough, this is the event for you.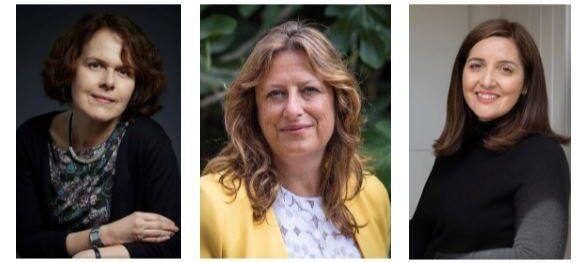 Organised by The Alderney Literary Trust and sponsored by Ravenscroft, authors Kate Rhodes, Elly Griffiths and Jane Casey will talk about the essential elements of their compelling crime thrillers.
Kate Rhodes' current series is based in the Isles of Scilly in a landscape that will be familiar to anyone living on or visiting Alderney. She will talk about how the setting – the sea, the landscape, the weather, the small community – brings the terrifying story in her latest novel The Brutal Tide to life. Elly Griffiths, author of the internationally successful Ruth Galloway series, will explore character in 'The mind of a murderer'. And Jane Casey, whose latest thriller The Close has been described as 'dangerously addictive', will reveal her golden rules for devising 'A killer plot'.
The one-day festival will take place in the Island's newly refurbished Methodist Church, with three hour- long sessions in which the authors will reveal the inspiration for their atmospheric settings, complex characters and twisty plots. Each talk is £10pp, or £27pp for all three, and is free to 16-year-olds and under.
While the afternoon events will be focused on readers, there's also a special workshop for those who would like to learn more about writing a thriller. Kate Rhodes will lead a 'Starting to Write Crime Fiction' course on the Saturday morning at nearby La Frette Farm, limited to 20 people. Tickets for this course are £25pp and also free to 16-year-olds and under.
Tickets, available from the Visitor Centre in Victoria Street, The Blonde Hedgehog or online, are selling out fast.