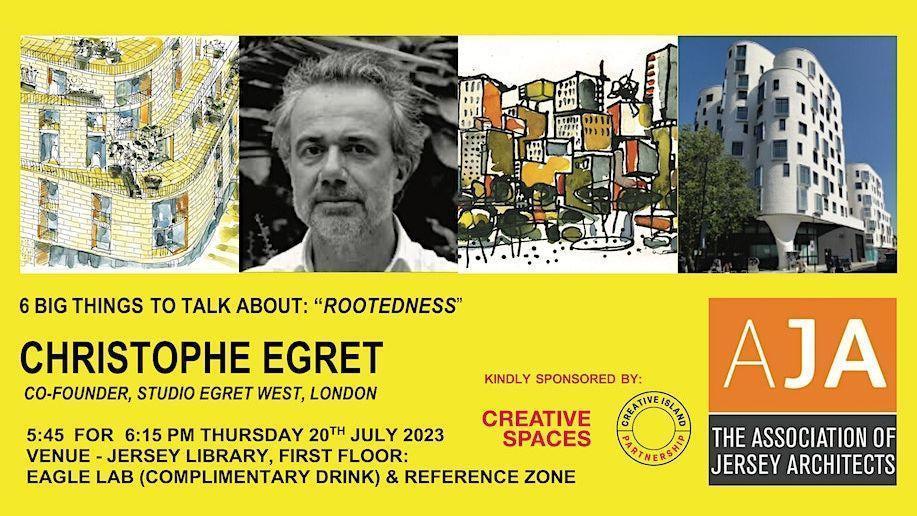 AJA evening talk: Christophe Egret about 'Rootedness'
6 Big things to talk about…. The AJA welcomes everyone to a unique series of talks and discussions about how we can best shape our world, through what we call the 6C's… Context, Character, Connectivity, Community, Climate and Change.
We are inviting international and local speakers to present their ideas on architecture, engineering, biodiversity, placemaking and identity, story-telling, everyday life, art, happiness and delight…amongst other things. These talks are to stimulate a forum of discussion between both the community and its stakeholders and our industry members including contractors, developers, planners, architects, engineers, artists, authors and anyone passionate about our environment. Most importantly, we are inviting you to join in the discussions.
July 2023 Event
The Association of Jersey Architects in collaboration with the Creative Island Partnership are excited to announce Christophe Egret is visiting Jersey to give a talk about "Rootedness". This event will take place on the first floor of Jersey Library, Halkett Place, St Helier.
A complimentary drink will be available from 5:45pm in The Hub with the talk starting at 6:15pm in the Reference Zone, followed by a Q&A session.
Biography
As a co-founding partner of Studio Egret West, Christophe has the privilege of nurturing and galvanising the pursuit of passion of a large group of talented creatives. As if that was not fulfilment enough, Christophe also loves discovering the qualities of places and buildings through painting and drawing and sharing this visual communication with colleagues and clients, testing through these the design principles that SEW establish on every project. This is a skill Christophe learnt and cultivated while working with Will Alsop when he completed, amongst other projects, the Peckham Library, winner of the Stirling Prize in 2000.
When Christophe set up Studio Egret West back in 2004, he and David West had an ambition to re-unite urban design and architecture. This has led them to a path that is less concerned with aesthetics for their own sake, and more so with the qualities of place. Be it as an experience of social cohesion or memorable spaces that lift the spirit.