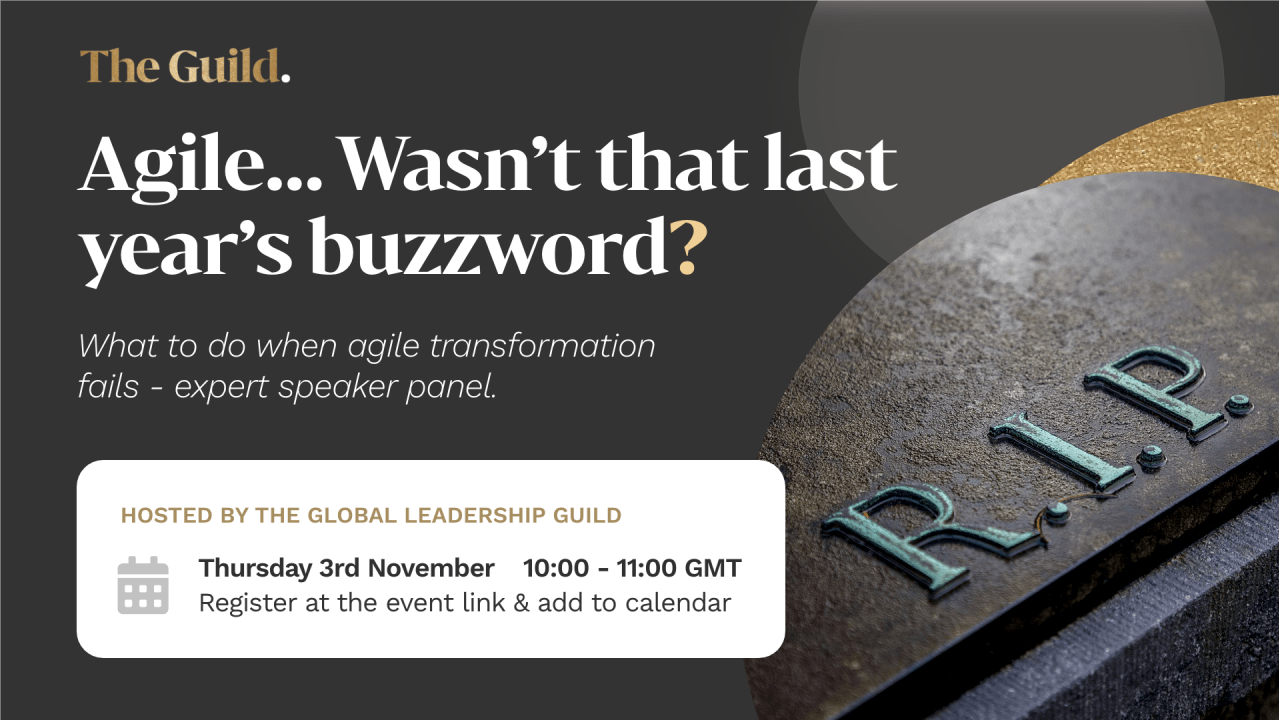 Agile… Wasn't that last year's buzzword?
Discussion points
The promise of Agile is the creation of a collaborative, growth-oriented and highly flexible organisation. The various Agile practices and disciplines – from PI planning to scrums – are simply a gateway to this promised cultural change. So what happens when momentum stalls? How do we respond when disappointment sets in, and resistance grows? This webinar will propose some answers.
What you'll gain
A clear understanding of the pitfalls that many companies sink into and how to recognise them before it is too late
The supporting mechanisms that Agile methods depend on but may be missing in your organisation
Why you will get further, faster by spending less on transformational initiatives
How Agile is rooted in positive psychology and a growth mindset
Communication skills at the heart of successful Agile deployment
Overcoming change fatigue: how Agile successfully builds on the ideas of • Six Sigma, Lean and other 'forgotten' corporate change initiatives
Why Agile is ideally suited to the new age of hybrid working
The speakers
Craig Cockburn is an enterprise Agile Coach based in Edinburgh, Scotland and who has been using remote working and home working practices successfully for many years. He was hired remotely in the 1980s, founded the UK's first guide to getting online in 1992 and wrote a research paper on remote working in 1993. Here he brings his diverse experience of remote, distributed and home-based working together with more recent experience of diversity, neurodiversity, strategy and critical thinking to help you make sense of the lasting impact covid will have on how we collaborate.
Russ Lewis, an early adopter and teacher of agile methods, services architectures, test-first development and object-oriented software design, Russ is again on a mission. He's now working with managers and leaders to transform the effectiveness of their workplaces. They are indisputably the experts, but the nature of work is changing, so Russ is helping them re-define leadership and management for the digital age.
As well as coaching executives and leading improvement as CTO (Interim) in mid-caps, Russ has helped improve investment banks including J P Morgan and HSBC; payment platform providers including Lloyds Banking Group, iSoftBet and Amadeus; advised Toyota, Bentley Motors, Parker Hannifin, Bucks County Council and several official organisations who prefer to remain unnamed. He built smart fares solutions for Transport for London, including contactless, which organically scaled to support 4m daily tube journeys. Of course, Russ writes books and gives talks, but he has recently become interested in evidence-based research.
Having gained a distinction for his Masters dissertation on Organisational Agility, Russ is about to start researching for his doctoral thesis. He's looking for managers to take past too, so do not hesitate to volunteer, if that sounds interesting to you.
Paul Darroch specialises in delivering financial and professional skills training, drawing on his two decades of experience in global finance. He previously led the Agile change programme at an international bank. He is President of the Chartered Institute for Securities and Investment (CISI) Jersey branch and is a Fellow of CIMA.
A former Centenary Scholar at St Hugh's, Oxford, Paul is a winner of the Shell Economist Writing Prize and the author of two published books. See less