Half-term plus Halloween equals huge potential for some fiendish family fun.
From wizarding workshops to spooky story walks, fairies, folklore and more, there are plenty of themed events for kids of all ages this October. 
With governments across the islands discouraging trick or treating this year, as it makes track and trace and social distancing difficult, these scheduled events can offer all the thrills and chills of the holiday instead. 
Some of these ghoulish goings on are free and some require booking and payment in advance, so be sure to check event details to avoid disappointment. 
So, here's our round-up of the best half term Halloween happenings this year…
What's on in Jersey
Halloween at Mont Orgueil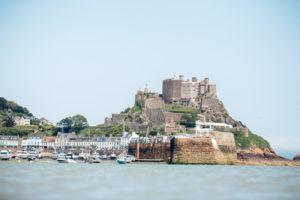 Is there anywhere spookier to spend Halloween than a 13th century castle at night? We don't think so. As the annual scare fest at Mont Orgueil has been cancelled, there will instead be hour-long candlelit tours between 5pm -10pm on Friday 30 or Saturday 31 October. Places are strictly limited to just 40 people per tour.  Tickets must be purchased in advance and cost £5 per person.
What's on in Guernsey
Fairies & Folklore
From 26 October – 1 November at Guernsey Museum, Candie Gardens, a week-long celebration of fairies and folklore will feature seasonal activities, trails and crafts, as well as a special visitor at 11am each day. There will be family films screened twice a day in the Frossard Theatre at 10.30am and 2pm. Normal admission applies.
Spooky Week at Beau Cinema
Between 26-29 October, the cinema at Beau Sejour Leisure Centre will be showing a spooky film daily at 3pm, including Hotel Transylvania, Goosebumps 2: Haunted Halloween, The House of Magic and Addams Family (2019). See here for schedule and tickets. 
Halloween French Workshops
The French Workshop will host Halloween themed workshops everyday at Vale Recreation Club, 9am to 4pm, from 26-30 October. Afternoon activities will include slime making and pumpkin carving and painting. Suitable for ages five to 11, the workshops cost £35 for single days, £20 for half days and £135 per week.
Souper Spooky Saturday
Halloween themed activities will be taking place in the Victorian Walled Garden at Saumarez Park, 11am -3pm, on Saturday 24 October. There'll be pumpkin carving, ghoulish games, face painting, a creepy craft cavern and a beastly bug hunt, plus soups, refreshments, rabbits to meet, and a cake stall as well as live music. 
Maggie Moo's Pumpkin Party
On 25 October, 10am -11.30, at Vale Recreation Football Club, Moo Music's Family Moo will be hosting a themed sessions suitable for ages six months to six years. 
A Truly Magnificent Broom
Island Coachways has teamed up with Iris & Dora to host a children's tour on 26 October, inspired by Julia Donaldson's kids' classic Room on a Broom. The event is from 1-4pm and tickets can be booked here.
Spooky Crafts
The team from Guille-Alles Library will be hosting a craft session at La Nouvelle Maraitaine Community Library on 26 October, 10.30am -11.30am. Suitable for all ages and free.
Halloween Story Walk
Enjoy spooky stories as you stroll through town with the team from Gulles-Alles Library. Suitable for ages six to 10. Event takes place on 29 October, 6.15pm -19.30pm, starting at the Liberation Monument. Free but booking is essential.
Wizarding Wonders
This Harry Potter themed evening on 29 October involves a ride on the Hogwarts Express (Le Petit Train), plus a transfiguration class at Iris & Dora. Starts at 6pm, costs £35. Tickets can be purchased here.
Halloween Disco
On 30 October, 6pm-7.30pm, at The Caves in Upper Mansell Street, there'll be a free Youth Commission Halloween disco for children in years 3-7. Book your ticket here.
Cuddly Toys Sleepover
A spooky sleepover for your cuddly toys on All Hallows Eve (31 October) at the Guernsey Museum in Candie Gardens. Photographs of their sleepover will be posted to the Guernsey Museums Facebook page the next day. Soft toys can be dropped off at the museum 10am-4pm from 24-31 October. Please ensure that all soft toys are labelled with a name and contact details and they can be collected from 1 November.
Halloween Party
Starting from 10am at Le Friquet Garden Centre on 31 October, there'll be fancy dress, competitions, face painting and more. Maximum age is nine. Tickets cost £16.95 per child and can be purchased here.
Potions Party
The Youth Commission teams up with the Natural Health Clinic to demonstrate the use of essential oils and explain their health benefits. Takes place on 31 October and is suitable for children in years 1-5. It's free but you must register in advance. 
Rotary Guernesiais Pumpkin Carving
Head down to Market Square on Halloween, 10am to 4pm, to purchase a pumpkin and get carving. It's a minimum donation of £5 per pumpkin.
Spooky Family Stories
Gather in the Children's Library on Halloween, 11am, for a selection of spooky stories. Suitable for all ages and free.