Sir Richard Branson made headlines for saying he would mortgage Necker Island to help save Virgin Atlantic from collapse. Our travel guru, Gary Hudson, is one of the few people lucky enough to have experienced Branson's private Caribbean island first hand. He tells Channel Eye about his week on Necker.
'It was the early 90s, but I remember it like yesterday when asking the stunt pilot how many more times he was going to invert his helicopter and scoop through gapes in the cliffs.
'I was on the trip of a lifetime, a week-long stay courtesy of Richard Branson (he wasn't a Sir then), on his beloved home island of Necker in the British Virgin Islands.
'After travelling across the Atlantic on the new (as then) Virgin Upper Class, spending a night in a sumptuous five-star  hotel suite in New York, followed by a first class flight to St Thomas in the US Virgin Islands, I had nearly arrived. I found myself sitting alongside a pilot, who had appeared in many TV commercials as a helicopter stunt pilot. Our group of four had rather hastily agreed yes, when he asked would we like the "hair-raising tour to Necker."
'I'm a bit sketchy on the actual flight times but the journey should have taken about 25 minutes. However, as we approached Necker Island, the rest of the party, who'd opted for standard helicopter transfers, were waiting with anxious looks on their faces. We found out later they were about to report us missing, so I'm guessing we were a little overdue.
'What a start to a wonderful stay on a paradise island in the Caribbean – what more could one want?'
Hospitality on another level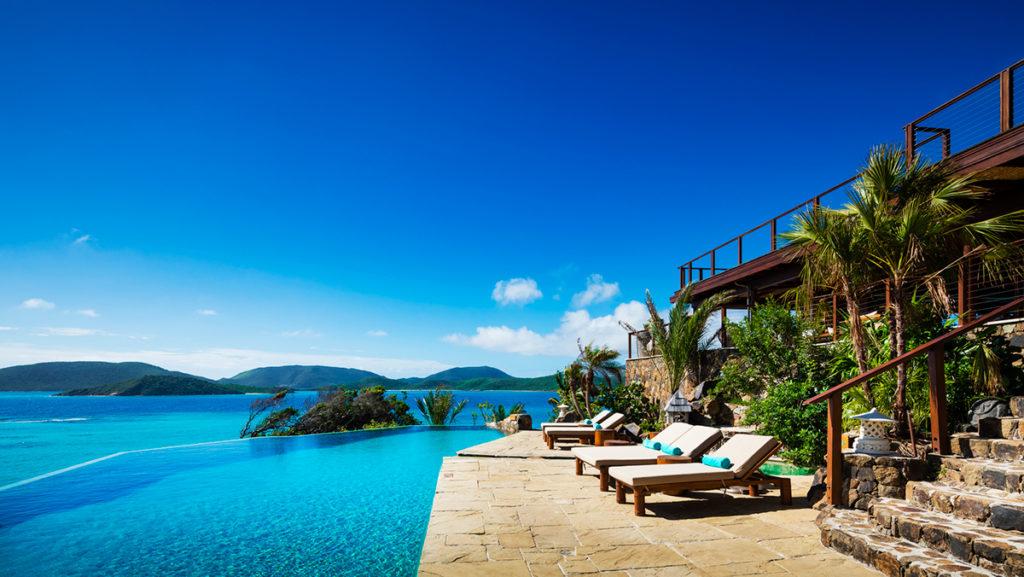 'Service was always with a smile, although I did get startled a few times when at the self service bar, without warning, a bar steward would appear, with gleaming white teeth, to ask if he could be of assistance.
'Whilst breakfast and lunch were served from island stores, dinner was a different story.
'From nearby Virgin Gorda would come a boat full of chefs, servers and entertainers (a one stop package), to create a magical evening of food delicacies, washed down with drinks from around the world (although champagne and local specialities appeared to be flavour of the day). All were prepared and served enthusiastically, followed by entertainment you were most certainly encouraged to join in with.
'Necker is for relaxing, and you can certainly do that on the soft, white sand, where ice boxes were placed sparingly along the beach, all holding a variety of cold drinks, including champagne, for you to help yourself.
'However, activity was there if wanted. As we were a group, trips on the speed boat to Virgin Gorda, or yachting to Anegada, a little to the north, were arranged.
'I was very much looking forward to the Anegada yacht experience, and the calm Caribbean sail followed by barbecue on the beach was idyllic. After our day of chilling it was time to head back, and it's fair to say we all were in great spirits (possibly because of the spirits), and we settled in for our cruise back. The weather all day had been stunning, hot, but cooled down by a tropical breeze. But black clouds were rolling in.
'As the yacht was of good size, and had many modern instruments, no more was thought of the changing weather. We drank and ate a little, sang and were having a relaxing crossing, when BANG, the heavens opened.
'Cover from this was not a problem, but the sea swell and the rocking of the yacht was something nobody could prevent. Whilst several of the party were turning a particular nasty colour, it was more worrying that so were some of the crew.
'We where half way between Anageda and Necker, do we go on, or turn back?
'My answer to this: It's Caribbean time, let's have another beer.'
---
Insert pic: The Main House pool, Necker Island via Virginlimitededition.com