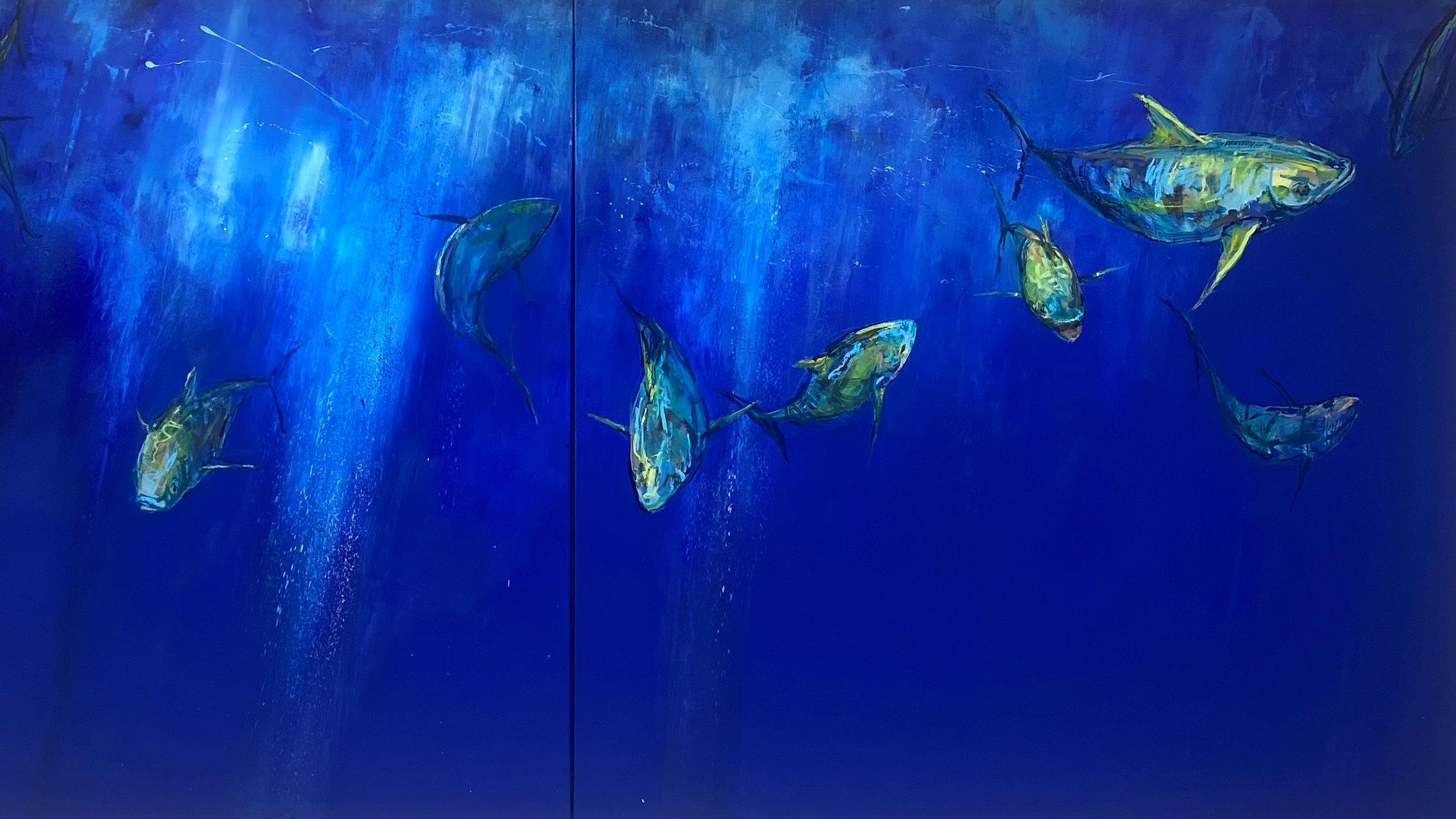 Exhibition: 'Interconnectedness' by Nicolas Romeril, Emma Rodgers, Johnny Vegas, Lionel Smit
On Friday 21st July at 5pm Private & Public will launch the gallery's second summer exhibition, 'Interconnectedness', which will showcase the works of four artists Nicholas Romeril, Emma Rodgers, Lionel Smit and the TV personality and artist Johnny Vegas.
Exhibition runs until Friday 18th August and is open weekdays from 12-6pm and on Saturdays from 10am- 2pm
Preview Evening and Drinks Reception on Friday 21st July from 5-8pm.
Ralf Waldo Emerson was a thought leader of the Transcendentalist movement and his 1836 essay 'Nature' was a founding document that outlined many of the movement's tenets.
The concept of unity, and that all people and things are interconnected, is central to Transcendentalism, and Emerson was deeply focused on the idea that people (in the early 19th century) had already lost sight of this and needed to reconnect with their surroundings and each other.
In his seminal essay Emerson proposed that the natural world, humanity, and the spiritual realm were all animated and united by the same 'Universal Being' or life force. His central argument was that everything and everyone is interconnected but that people had become dangerously alienated from themselves, from other people, from nature, and from the divine.
Almost 200 years later he is now regarded as somewhat prophetic for who in the 21st century hasn't felt some form of isolation from their fellow man and craved to be closer to natural world in recent years?
Emerson's posturing's also have a particular relevance to the mildly self-obsessed, narcissistic, smartphone wielding generation of today of which we all play a part to one degree or another.
But in their own way each of the artists exhibiting in this show share similar concerns about the importance of being closer to the spirit of nature and to their fellow man which is why we feel it is vitally important to support the local charity Healing Waves.
This beautiful exhibition brings together artists from around the world to provide an uplifting perspective on the interconnections between man and nature.
Emma Rodgers
Sculptor Emma Rodgers is one of the most sought after – and highly collectable – artists working in Britain today. Art critic David Whiting believes her to be amongst the foremost ceramic sculptors working anywhere in the world.
"Emma Rodgers arts gets straight to the core of her subject. She really inhabits the spirit of her creatures, just as they inhabit hers. It is about the flesh and bone beneath the skin, pulsing visceral forms that express the physicality and raw energy of the animal world. There is something dark about this vision too – nature at its most untamed. Her creative process involves not only great technical skill and acute observation, but powerful intuition and imagination. This is what makes Emma's work so fresh and alive."
Emma has pioneered new boundaries for age-old mediums of clay and bronze pushing them to the edge of their elasticity to create powerful, challenging, delicate, tender, disturbing and yet ethereally beautiful statuary. She has deliberately abandoned the solidity of form traditionally associated with both classical and modern sculptural movements enabling her to move into original realms of statement by omission.
Her work, whilst solid, has at times a gossamer lightness that can make it appear sketched rather than cast or moulded and the constant genius of her exoskeletal forms is that they always depict what can't be seen but is transversally present: the life force that may be called soul, or chi, or spirit or chakra.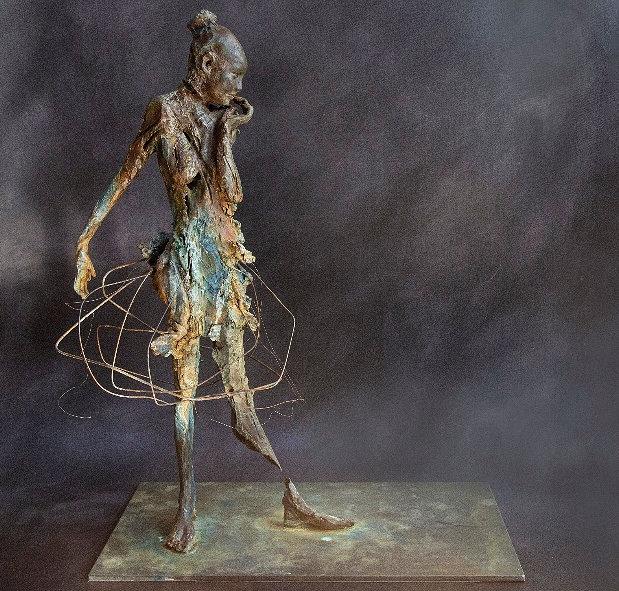 Nicolas Romeril
During his degree at Camberwell, Romeril won the travel scholarship from the Royal Overseas International Painting Competition. He travelled around Mexico and on his return he exhibited and published his work with the ROSL in St James, London. This was his first real opportunity to travel and explore different cultures which has been a major part of his life ever since.
In 2018, Romeril was awarded the artist in residence for the Friends of the Scott Polar Research Institute. This has been the most exciting and creative project so far and he learnt a great deal about what he can achieve during an expedition like this. In January 2018, he travelled to Antarctic Peninsular aboard HMS Protector.
During the six-week expedition, he travelled to 15 special interest sites, covering over 3,500 miles. He produced more than 200 drawings and paintings, a diary of the journey and a number of virtual reality films. The residency was funded by the Royal Navy and Bonhams Auction House. His responsibility was to create a body of work, exhibit the results and donate a piece to the FoSPRI, SPRI and the Royal Navy. He held 6 solo exhibitions of the work created from this residency in Jersey, London, Switzerland and Ireland.
Early in 2022 Nicholas Romeril was the first Artist in Residency with Wildlife ACT, a conservation NGO saving endangered species, in Hluhluwe- iMfolozi Park and the Drakensberg Mountains in the KwaZuluNatal Province of South Africa. He spend 4 weeks on the volunteer program in Hluhluwe-iMfolozi Park and 10 days in the Drakensberg Mountain studying the endangered Vultures. "EYES ON US" was the first exhibition of the paintings, prints, fragrances, soundscapes, immersive experiences, VR and flat films he has created since his return.
Again in 2023, with Wildlife Act, Romeril took part in the volunteering program on North Island, Seychelles to monitor the hatching turtles (Green and Hawksbill), the population of giant tortoises, eradicate invasive plant species and count and record flotsam and jetsam collected from the beaches. He created 40 field paintings, shoot footage for VR films and did all the volunteers program.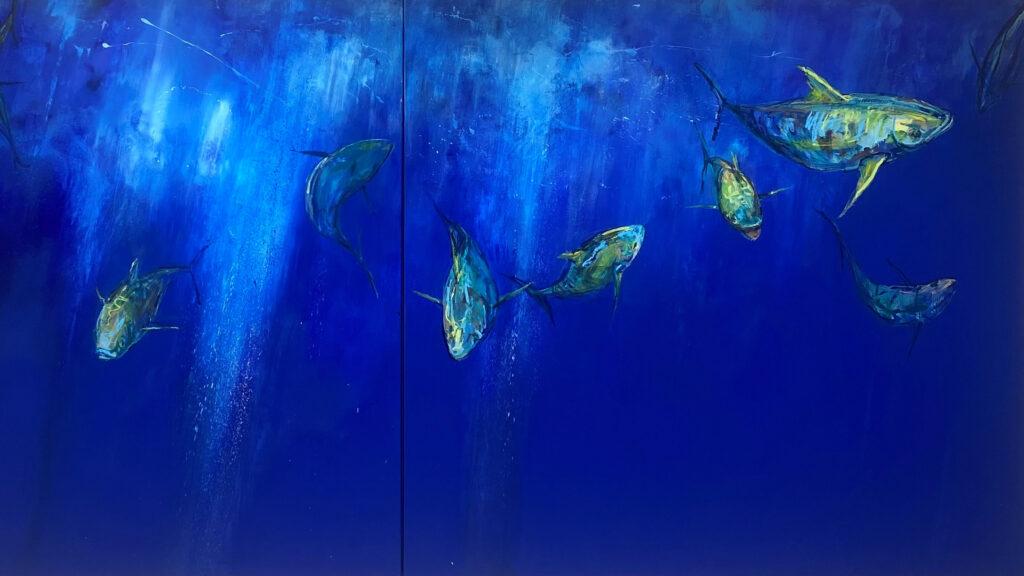 Johnny Vegas
Michael Joseph Pennington, better known as Johnny Vegas, is the popular English comedian, actor, writer, and director. He is known for his strong Lancashire accent, husky voice, comedic rants, and use of surreal humour.
What most people may not know is that Johnny Vegas earned a BA in Art and Ceramics from Middlesex University and has recently returned to making artwork. His biggest inspiration are the drawings, paintings and ceramics of the 20th century Spanish artist Joan Miro.
He regularly appeared on the Channel 4 programme Grayson Perry's Art Club which screened during lockdown and encouraged the UK to think creatively whist in isolation.
This is the very first time that the artist has displayed and sold his works in a commercial gallery so we are delighted to welcome him to Jersey.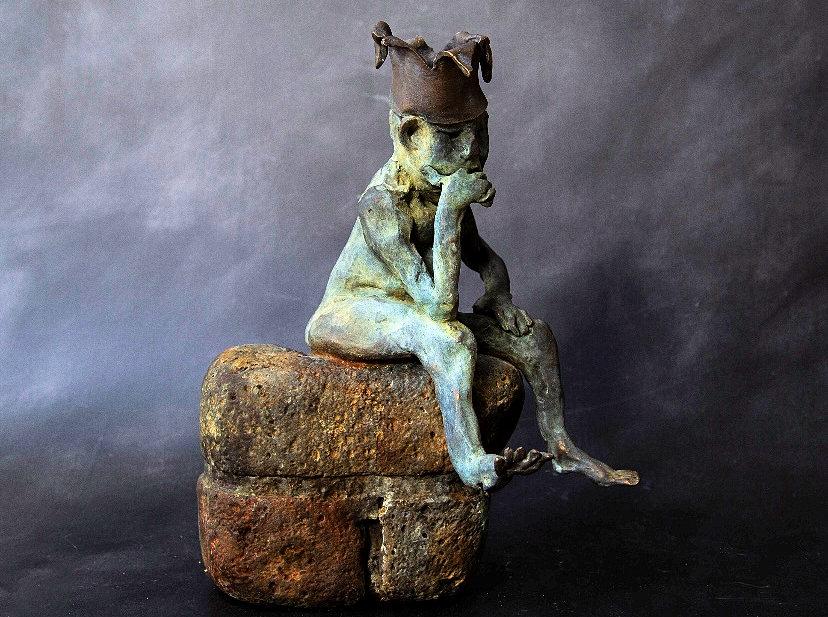 Lionel Smit
Lionel Smit is one of South Africa's most prolific and exalted artists. His artistic diversity is pursued through a variety of mediums and he is best known for his contemporary portraiture. His art is defined by a deeply rooted symbiotic relationship between sculpture and painting. Today, each of Lionel Smit's works offers us an entry point into the variety and richness that lies beneath every face we encounter in life, whether applied in bronze or paint.
The blending of techniques across genres is a display of Smit's work in multiple media, all bearing a visible and tangible overlap.
Lionel Smit was born in 1982 in Pretoria, South Africa and his work has been the subject of several solo exhibitions, his painting Kholiswa has been exhibited at the National Portrait Gallery in London receiving the Visitors' Choice – BP Portrait Award 2013. Collections including his works vary from Standard Chartered Bank to Laurence Graff Art Collection and his painting has been featured on the cover of Christie's Auction Catalogue.