A beautifully decorated table with a magnificent centrepiece, laid with crisp linen, laden with flowers and candles and set for a celebratory feast is at the heart of any wedding breakfast.
And while they may look effortless, there's an art to tablescaping, as Wedding Eye discovered when we spoke to Emma at Joys.
She has years of experience under her belt, working with couples to turn the blank canvas of a function room or marquee into a lavishly decorated chamber, right down to the last perfectly placed bloom.
There's a moment at every wedding where the ceremonial part is done, the drinks have been served and the wedding party moves into the place where they will sit together eating, drinking and ready to toast the health and happiness of the newly married couple.
Tablsecaping is done well when there's a collective gasp of appreciation from the guests as they see the room for the first time. It's all about the 'wow' factor of the decorated tables and chairs together in that space that really lets them know that it's time to celebrate.
And making sure that the table reflects the joy and splendour of the occasion is a fine art. It needs to look beautiful, special and also contain enough space for the dining equipment so the guests can eat and drink to their heart's content unencumbered by the decorations.
Creating that perfect balance between too sparse and not celebratory enough and over burdened with every decoration known to humankind, Emma learned her craft with The Wedding Academy.
'There's no right way or wrong way, but you need to make sure that you've considered the balance and height of table elements, as well as keeping enough room for glassware, plates and everything the wedding guests will need to eat their food,' says Emma.
'If you have a colour theme in mind you need to stick with it, but you also need to keep the bride's theme in mind.
When I create a tablescape I have the colours and the couple's theme in mind as well as picking up a sense of their personalities and pull it all together to create a beautiful table.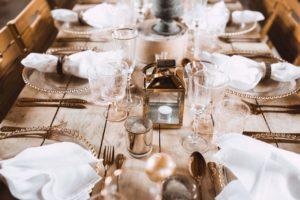 Photograph by The Wedding Company
'One of my favourites was a beach wedding. It was quite rustic so there were hessian runners on the tables. The centrepieces were clear vases filled with sand mixed with copper glitter, and turquoise pillar candles, which matched the bridesmaids dresses.
'Decorative shells and copper tea lights were also dotted down the centre of the tables, along with handtied arrangements of wildflowers in blue vases.  I created some chair backs that matched which were rope ties with a shell decorating them. That was two years ago and that type of design is still very popular with couples.'
Creating a beautiful table is limited only by imagination and budget, she says.
'We can pretty much do whatever someone wants. Flowers are always very popular and for this year we've got five-foot cherry blossom trees that can be decorated underneath with tea lights.
'Centrepieces at the moment are quite tall, and are featuring blues and metallic tones, such as one of our new additions for this year, a gold geometric frame that's a bit like a pergola that sits over the table and can be decorated with blooms or trailing vine intertwined with fairy lights or even crystals.
'It's all about making a big impression, to make people say "wow" when they walk in the room and create an atmosphere that's particular to that wedding celebration.'